VGA Devices
Scroll down the page to see the latest products or use the filters on the left of the screen to refine your search and find the right device for you.
Read more...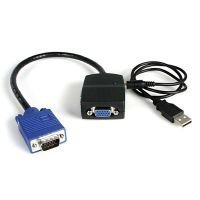 Allows a PC to display VGA video on 2 monitors
Supports displays with up to 300 MHz of bandwidth
Up to 2048x1536 resolution
Integrated signal amplifier boosts your connection
QuickFind: 144254 | Mfr part code: ST122LE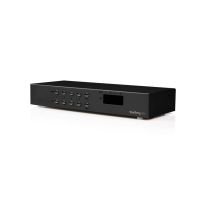 Allows four PCs / Media Players to provide video to four displays /...
Daisy chain an additional unit for use with seven sources and seven...
QuickFind: 227478 | Mfr part code: ST424MX
Video splitter - 2 ports
2 x VGA
USB powered
Black
QuickFind: 243995 | Mfr part code: 89032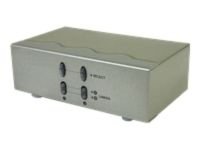 Allows two VGA source devices to provide video and audio to two displays...
Maximum Resolution of up to 1920 x 1440 @ 85Hz
Video bandwidth 250 MHz
QuickFind: 271218 | Mfr part code: ST222MXA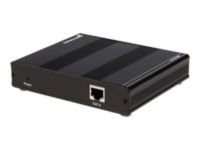 Send video and audio over Cat5 or better cabling to remote displays...
Monitors can be situated up to 300m / 950ft away at a resolution of...
QuickFind: 406708 | Mfr part code: STUTPEALRGB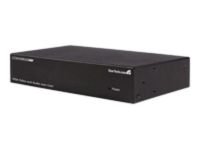 Deliver VGA video and audio to monitors located up to 300m / 950ft away at...
Supports maximum resolutions of up to 1920x1080 / 1080p @ 75m / 250ft...
Extend using standard Cat 5 or better cabling
QuickFind: 406712 | Mfr part code: ST124UTPEA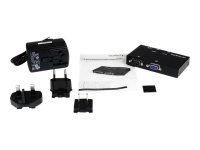 Features 2 local (VGA) output ports, 2 (VGA over Ethernet) output ports...
Extends VGA video by up to 500ft (150m)
Supports cascading multiple transmitter units
QuickFind: 413798 | Mfr part code: ST1212T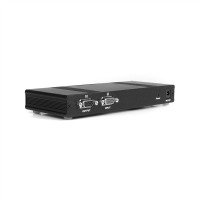 Simultaneously displays the same image on 8 monitors
Supports a maximum resolution of 1280 x 1024 @ 60 Hz refresh rate...
QuickFind: 428142 | Mfr part code: ST128UTPE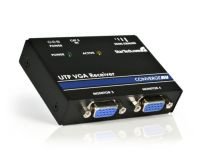 Allows users to make use of existing Ethernet infrastructure to extend...
QuickFind: 150198 | Mfr part code: ST121RGB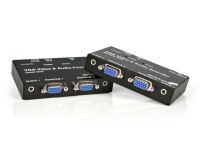 Extends VGA and analog audio up to 500ft / 150m
Consists of 1 Base unit for the local display
Consists of 1 Remote unit for the remote
Pure hardware design, no software or drivers required
QuickFind: 156212 | Mfr part code: ST122UTPAGB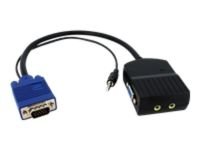 Compact, space-saving design
Includes USB power cord
Provides brilliant resolutions up to 2048 x 1536 60 Hz
QuickFind: 224154 | Mfr part code: ST122LEA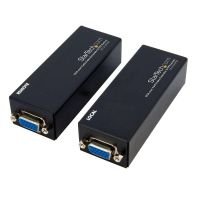 Extends video signal by up to 250 ft. (80m)
Supports 1920x1200 or 1600x1200 resolutions at 150 ft. (50m)
Supports 1280x1024 or 1024x768 resolutions at 250 ft. (80m)
QuickFind: 227481 | Mfr part code: ST121UTPEP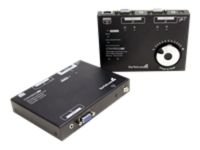 Includes transmitter (local) and receiver (remote) unit
Extend video at distances up to 300m (950ft)
Supports 1920x1080 resolution at max cable length
QuickFind: 406711 | Mfr part code: ST122UTPAL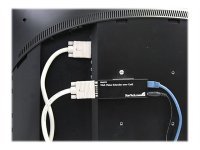 Works with ST124UTPE, ST128UTPE and STUTPXWAL UTPE Series...
Supports a maximum resolution of 1920x1200 (resolution varies by...
QuickFind: 413797 | Mfr part code: STUTPRXLGB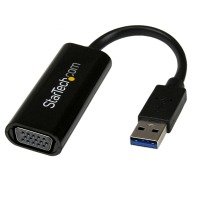 Connect a VGA display through this slim USB 3.0 Adapter for a...
Works with Windows 8/7 computers and VGA monitors & projectors...
1920x1200 - USB Video Card / USB to VGA
QuickFind: 621237 | Mfr part code: USB32VGAES
Return to top
Take advantage of our low prices and fast delivery service by doing all your online shopping here at Ebuyer.com.