HDD and Memory RAM Cooling Computer Accessories
HDD and Memory Cooling Accessories
When you think about computer cooling, chances are your thoughts will turn to fans and heatsinks that focus on CPU and graphics processors. These components can emit a great deal of waste heat, but they're not the only ones. Hard disk drives and similar memory units can also generate waste heat that can contribute to the overall temperature inside your system.
Read more...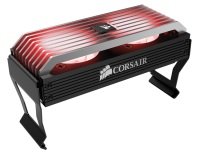 Direct airflow
Easy installation
QuickFind: 720045 | Mfr part code: CMDAF
Return to top
Help Keep Everything Cool
Ebuyer's range of HDD and memory cooling accessories has everything you need to minimise the amount of excess heat generated by your components. This is especially important for keen gamers, power users and overclockers where the risk of system overheating is already high.
Used in conjunction with cooling accessories for the other hardworking components in your system, memory coolers and fans will help keep things ambient and stable under your PC's case. Without these measures, the risk of overheating leading to instability and damage could prove to be disastrous.
At Ebuyer, we stock a wide range of HDD and memory cooling accessories suitable for both business and personal use. Find your perfect memory cooling accessory using the filters on the left of the screen. Don't forget that with Ebuyer you always get fast delivery and low prices.