Food Processing
Brand
Price
Max power consumption
Capacity
At Ebuyer.com you'll discover a huge choice of food processing appliances, tools and gadgets that will make your life easier when preparing meals. These days, time is precious and each of these appliances will speed up your cooking and preparation time. Blenders are perfect for a quick breakfast smoothie, healthy soup for the family, or introducing baby to their first solid food. Choppers and slicers are the ultimate lazy man's kitchen tool - great for preparing vegetables for that extended family occasion. Meanwhile, food processors are a useful multi-tasking gadget to have in your kitchen; and juicers deliver a healthy alternative to your five-a-day.
Read

more

less

...
Blenders and hand blenders for less
A kitchen blender is a useful appliance for mixing, pureeing and crushing food. Create your favourite cocktails with crushed ice; blend healthy soups from a mix of vegetables; and make smooth purees or smoothies. A blender is also relatively easy to keep clean, whether it is a machine blender with a glass or plastic jar, blade at the bottom and lid, or a hand blender.
Our machine and hand blenders come in a range of different shapes and sizes from top names such as Kenwood and Swan. For machine blenders, look out for extra features such as a pouring spout and stirrers attached to the lid, to mix your concoction while the blades are at work. You will also find noise reduction functions - ideal for those early morning smoothies!
A hand blender is easy to use, easy to clean and versatile. If you want to puree food quickly, or whip up a sauce, then a hand blender like the Morphy Richards hand blender is ideal. Check that your hand blender is easy to grip and not too heavy. Additional features include a variety of speed settings and turbo functions.
Choppers and Slicers
Speed up your food preparation time with this collection of food choppers, slicers, mincers and grinders. Not only time-savers, these appliances are stylish too, with a mix of both contemporary and retro designs to match your kitchen. Use choppers to cut vegetables, fish, meat, herbs and spices. Slicers can be used for slicing, shredding and grating - perfect for bread, cheese and much more. Mincers and grinders are growing in popularity after all the recent mincemeat scandals. Use these tools to create your own meat products and you'll know exactly what goes into them.
Food Processors: Kenwood, Swan and more
Food processors are extremely flexible and capable of performing a huge number of tasks: blending, chopping, slicing, mixing and grating; and even mixing cake batter. Look for a food processor with additional accessories and enjoy a multi-functional machine.
If you predominantly cook homemade food, then a food processor could save you a lot of preparation time, and you don't need to spend a lot of money.
Our low cost and effective food processors from a range of top brands such as Cuisinart and Russel Hobbs come with plenty of attachments. A knife blade can be extremely versatile and can be used for mincing, pureeing and more, as well as simply chopping, while a shredding blade will be useful too. If you are going to be preparing a lot of tougher ingredients such as potatoes, hard cheese and nuts, then look for a potato rasp as well. If you plan to create a lot of soups, take a look at Kenwood food processors. These come with a maxi-blend canopy - a useful tool to blend soups that works in conjunction with your blade.
Extra features for your food processor include mills for creating small quantities of food, whisks and spatulas.
Juicers
Ensure you get your five-a-day with a delicious fruit or vegetable juice drink. Our juicers come with a range of features to make sure you get your juice fast. Feeder chutes in different sizes allow for a variety of fruit and vegetables including whole apples and large grapefruit, while different speed settings let you control the consistency of your drink. Look out for citrus press attachments and quiet action settings. And thanks to stylish designs from brands like Alessi and Kenwood, your juicer will fit nicely with your kitchen decor.
Soups are another great way of achieving your five-a-day. Take a look at our affordable soup makers here.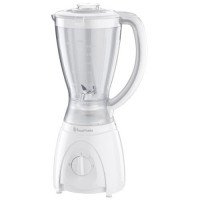 400 watts
1.5 Litre capacity
2 Speeds + pulse
Safety interlock- will not operate unless jar is correctly fitted...
QuickFind: 108517 | Mfr part code: 14449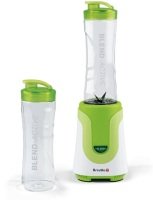 Personal blender
2 x 600ml portable bottles
Quick & easy to make smoothies
Fits most car cup holders
Green + White in colour
QuickFind: 696224 | Mfr part code: VBL062