Coffee Makers
Beginning your morning with a fresh cup of coffee is definitely one way to get the day off to a great start. That comforting aroma and rich flavour has been known to put a smile on many a sleepy face and the caffeine is sure to give you the boost you need.
Of course, buying your coffee from a cafe can become an expensive habit and you have to get yourself out of the house early just to get there. If your mornings are rushed, you might not have the time to stop every day for that little pick-me-up. The coffee machines at Ebuyer.com are designed for ease of use and once you have made a delicious drink or two, you'll see just how simple it is to make your favourite hot beverage.
But which coffee maker should you get? There are a few different types of machine and the right option will mainly depend on your beverage of choice.
Read more...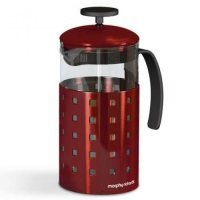 1000ml capacity boroscilite glass liner
Dishwasher safe liner
Stainless steel body/holder and lid
Soft touch handle and plunger
QuickFind: 414733 | Mfr part code: 46191
Return to top
Filter Coffee Makers
For those who prefer the simple pleasures of a standard cup of coffee, a filter coffee machine, such as the Morphy Richards Accents coffee maker, is the best choice. These heat the water and dispense it above the beans. The water percolates through the ground beans and into a pot below.
A filter coffee machine usually includes a thermostatic hotplate to keep the coffee warm, so you can enjoy another cup later in the morning. The Morphy Richards coffee maker lets you make 12 cups in 10 minutes and has a permanent easy to clean filter.
Espresso Machines
If you enjoy mochas, lattes, cappuccinos, Americanos, macchiatos or other specialty drinks made to your exact specifications, an espresso machine is the ideal choice. These appliances are famous for their frothy noise and include two main parts - one for brewing the espresso and one for steaming and foaming the milk.
The uber stylish DeLonghi Icona espresso maker, which also makes cappuccinos, would look great in a modern kitchen or office with its scarlet red high gloss finish. It has 15 bar pump pressure and will take ground coffee or pods. The DeLonghi coffee maker accommodates either two full sized cappuccino cups or two espresso cups, so invite a guest over and get the coffee shop experience at home!
For a retro look, check out the Bialetti espresso maker, which is an aluminium stove-top espresso pot - perfect for that traditional Italian-style espresso.
Krups coffee machines are known for their compact style and Precise Tamp technology, which means anyone can create a perfect cup of coffee whether it's their first or last cup. Take a look at this Krups espresso maker, which also makes cappuccinos, lattes and other milk-based drinks.
Grinders
If you opt for a filter coffee machine or an espresso machine, you will need to buy pre-ground coffee beans, or grind your own at home.
Many people opt for the latter, as it gives them more control over the taste and strength of the beverage. If you decide to go down this route, you will need to purchase a grinder to go with your coffee maker.
These are offered by brands like Swan and Elgento. What's more, when they aren't being used for your caffeinated beans, they can double as an herb chopper. Take a look at the Elgento coffee and herb grinder, which has a one touch operation and a viewing window.
Alternatively, this Cuisinart grind and brew plus bean to cup coffee machine actually grinds fresh coffee beans for you. It can make up to 10 cups of coffee in just 8 minutes, while the double walled insulated carafe keeps coffee warm for up to 12 hours.
Cafetieres
When entertaining, you can't go far wrong with a cafetiere and the Morphy Richards cafetiere range brings you appliances that are easy to use and clean, stylish and in a variety of colours to match your kitchen decor.
Percolators
Similar to a cafetiere, percolators work by continually cycling the boiling coffee until your desired strength is achieved. This low cost Elgento coffee percolator holds 1.8 litres and has a 'keep-hot' feature.
If you want something a little different, try this unusual Bodum Pebo vacuum coffee maker. As well as becoming the talking point of your party, this coffee maker works by using a sealed vacuum brewing process. This stops aromas escaping until the coffee is ready, giving you a rich and natural taste.
But if you are looking for a simple kettle to make a simple cup of coffee manually, take a look at our affordable kettles range.