Juicers
A popular way to live well, juicing doesn't seem to be going anywhere. They're a fantastic way to make sure you're always getting your five a day, and the range of juicers below are perfect for whipping up a smoothie or fruity mocktail in no time at all!
Get experimental, chuck in some good-for-you superfoods and even encourage kids to eat their vegetables with the help of juicing. Here at Ebuyer we offer free delivery with every order over £49.99 too - helping you save more when shopping online.
Read more...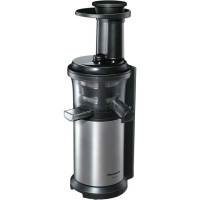 Juicer
400ml Juice cup and pulp cup
150W
Frozen attachment
QuickFind: 771806 | Mfr part code: MJ-L500SXC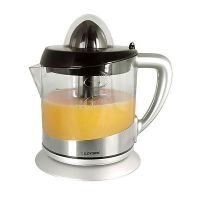 Citrus Juicer
2 interchangable juicing cones (small / large)
Adjustable pulp strainer with 3 settings
Right and left handed measuring gauges
QuickFind: 771844 | Mfr part code: E5201BK
Return to top
Smoothies and fresh juices are brilliant vitamin-filled snacks for any time of the day. A particularly wonderful way to start the morning, you'll be able to find hundreds of exciting recipes online to make every day of the week different, from refreshing strawberry and kiwi drinks to creamy banana, blueberry and soy smoothies.
The collection of juicers at Ebuyer include expert models from Panasonic, efficient designs by Fusion and value juice extractors from Elegento. Whatever you're looking for, you can be confident that you're receiving a brilliant juicer at an unbeatable price from Ebuyer. Proud for offering the lowest prices on the internet, we'll even refund you the difference if you find your new juicer elsewhere for less - just send over the details and your receipt within seven days of your purchase!
Juice at high speeds, make scrumptious frozen desserts thanks to specialised attachments and never worry about cleaning up mess with dishwasher-safe juicers. Browse the range above, and don't hesitate to get in touch with our experts through using out live chat tool if you need any extra information before purchasing a new juicer - we're always happy to help!