Air & Spray Dusters
Size
Cleaning area
Brand
Air Dusters from Ebuyer.com
Environmentally friendly and a quick and easy way to clean your keyboard or even the interior of your PC. What is there not to like about air dusters? Simply point and shoot and the dust will fly out of all those inaccessible little places that we either can't reach or, more likely in my case, just don't think about cleaning.
Read

more

less

...
Air dusters are supplied with a 'straw' that can be used to direct the air into small crevices or nooks and crannies including on the inside of the PC. Air is discharged from the can at a high velocity that literally blasts small particles of dust and debris out of their hiding place. It's a simple, and quick, way to clean your computer and other electrical equipment.
You will find a selection of air dusters from leading brands here at Ebuyer.com. Choose from different volumes ranging from the smaller 125ml up to the large 400ml size as well as cans specifically designed for keyboards, surfaces or multi-purpose use. Most air dusters are non-invertible (they can't be used if held upside down) though there are some invertible models available.
Shop for the office at Ebuyer.com
Air dusters are just one of the computer cleaning products we have on offer here at Ebuyer. Check out the full range as well as the rest of the office essentials and, if you order today before 11pm, we can deliver your order tomorrow (terms and conditions apply).
Product Type: Air duster
Brand: Fellowes
400ML
QuickFind: 545365 | Mfr part code: 9977804
Pure non flammable compressed gas
Blows dust & debris from inaccessible areas
Ideal for use on keyboards, printers, fax machines and computers...
Actuator allows strength of blast to be controlled
QuickFind: 390121 | Mfr part code: SDU400D

Ideal for use on printers, keyboards & other electrical equipment...
Use in an Upright position only
HFC Free and Ozone Friendly
520ml Can/ 350ml Fill
QuickFind: 430715 | Mfr part code: 9974905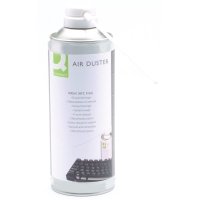 HFC Free, Great Value Air Duster
Cleans dirt from hard to reach places such as keyboards and PC...
Comes with nozzle extender
400ml
QuickFind: 377165 | Mfr part code: 175-50-028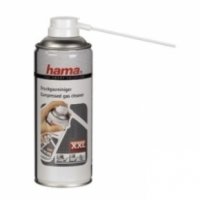 For cleaning your workplace in the office and at home
Very high volume
With small tube for hard to reach places
QuickFind: 411307 | Mfr part code: 63084417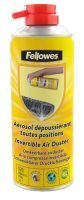 Upright and multi-positional (invertible) air duster
Ideal for cleaning dirt from difficult to reach areas
HFC Free and Ozone friendly
QuickFind: 366199 | Mfr part code: 9974804
Our most powerful airduster
Blows dust & debris from inaccessible areas
Ideal for use on keyboards, printers, fax machines & computers...
QuickFind: 390125 | Mfr part code: SPDI200
Compressed air duster for cleaning dust from keyboards and equipment...
Promote airflow by removing dust from fans
Non-flammable
QuickFind: 473668 | Mfr part code: SDU125D
Aerosol Sprayduster
Non-flammable
QuickFind: 661085 | Mfr part code: SDU100
The World's First Active Carbon SprayDuster
Zero Flammability
Zero Odour
QuickFind: 697637 | Mfr part code: SDZ420D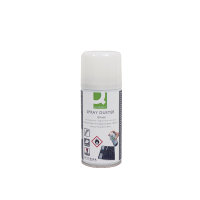 Air duster for cleaning hard to reach areas including computer...
Comes with free extension tube
Pack of 1 x 150ml can
QuickFind: 762301 | Mfr part code: AHFC150QCA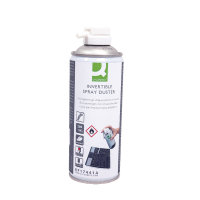 Air duster for cleaning hard to reach areas including computer...
Ozone friendly HFC free
Pack of 1 x 200ml can
QuickFind: 762303 | Mfr part code: AHFC200QCA