Screen Risers, Stands & Filters
Screen risers and filters from Ebuyer.com
Positioning a monitor or laptop screen at the correct height is good practise for office workers, or anyone else, who spends many hours each day in front of a computer. Having the screen at eye level reduces strain and can also help to reduce neck and shoulder pain.
Read more...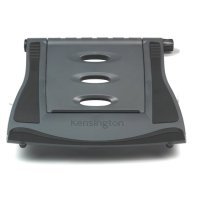 Easel type notebook riser
Multiple Angle Settings
Folds Flat to travel easily
Fits 12" to 17" Laptops
Up to 50 degree tilt angle
QuickFind: 95944 | Mfr part code: 60112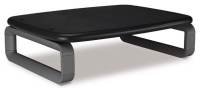 SmartFit System
Recommended Use: Monitor Up to 21"
Max Load Weight: 36.3 kg
Features: Adjustable height
Service & Support: 2 years warranty
£29.99 inc. vat
£32.99
save £3.00
£24.99 ex. vat
£27.49
save £2.50
View Product
QuickFind: 245758 | Mfr part code: 60089
Supports large CRT or TFT monitors
Height adjustability
Stows laptop or keyboard underneath for space saving
Features a cup holder and media storage
QuickFind: 363072 | Mfr part code: 8031001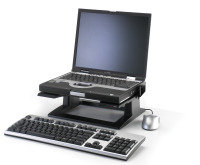 Raises your notebook to an ergonomically correct height
Cable management feature
Ventilation to keep your notebook cool
Includes attachments for PDA and document holder
QuickFind: 364068 | Mfr part code: LX500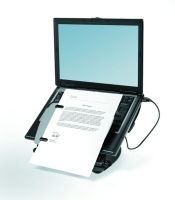 Raises your laptop screen
Nine angle adjustment
Integrated 4 port 2.0 USB Hub
In-line clips and stylish air vents
FIRA Ergonomics Excellence Award Winner
£34.98 inc. vat
£24.98 after Cashback deal
£29.15 ex. vat
£20.81 after Cashback deal
View Product
QuickFind: 366198 | Mfr part code: 8024602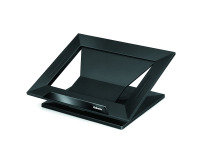 Fellowes Designer Suites Laptop Riser.
Height adjustable.
Angle adjustable between 0-30 degrees for increased personal...
QuickFind: 371758 | Mfr part code: 8038401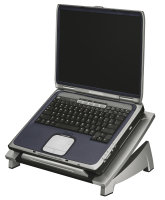 Laptop riser places your laptop at a comfortable viewing angle for ease...
Supporting front edge prevents laptop from sliding off.
QuickFind: 371765 | Mfr part code: 8032006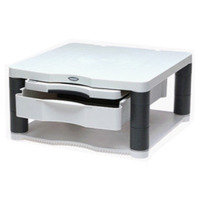 Height adjustable monitor base, includes cable and power cord guides....
2 storage drawer for media storage, pens, A4 paper etc.
QuickFind: 372122 | Mfr part code: 9171302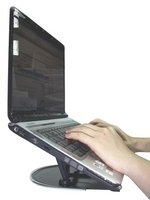 Ultra light platform
Ideal for traveling
Platform size 500x220mm.
Colour: Black.
QuickFind: 377155 | Mfr part code: KF20077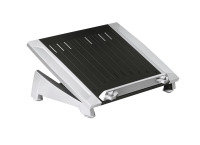 Fellowes Laptop Riser Plus.
Adjustable height riser with in-line copyholder, cooling vents...
QuickFind: 382442 | Mfr part code: 8036701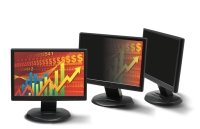 The 3M PF19.
0W fits widescreen size desktop LCD monitors with a diagonally...
10.
05in Height x 16.
£57.52 inc. vat
£72.77
save £15.25
£47.93 ex. vat
£60.64
save £12.71
View Product
QuickFind: 382785 | Mfr part code: PF190W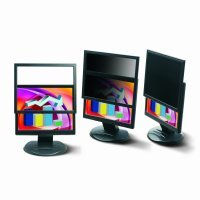 Fits 23" to 25" widescreen monitors
Reduces screen glare & reflections more than 98%
Optically clear with greater than or equal to 92% clarity
Easy-to-clean surface repels permanent marker.
QuickFind: 382802 | Mfr part code: PF324W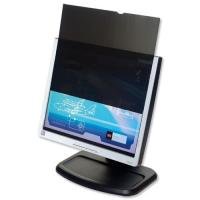 For 19" Monitors
Improves Privacy without Blurring
Protects Against Scratching
Reduced Glare
QuickFind: 477272 | Mfr part code: PF19.0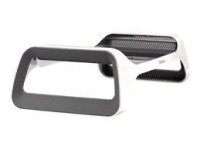 Lifts your monitor to meet your eyeline
Prevents neck and eye strain
Sturdy to prevent the breakage of your monitor
Stylish design is consistent with other I-Spire products
£16.98 inc. vat
£17.99
save £1.01
£14.15 ex. vat
£14.99
save £0.84
View Product
QuickFind: 581345 | Mfr part code: 9311102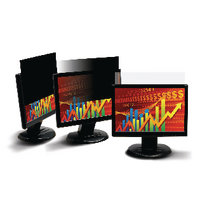 Privacy filter prevents others viewing your monitor
Also protects screen from dust and scratches
Easy to apply, remove and re-apply as necessary
QuickFind: 699318 | Mfr part code: PF200W9
Return to top
So positioning the screen correctly is something that shouldn't be overlooked yet many of us simply place our monitor on the desk without another thought. Yet, by employing the simple expedient of a monitor riser, we can make our working environment so much more ergonomic and comfortable. And leave us less susceptible to aches and strains.
Choose your riser
Monitor risers from Ebuyer.com are available in different styles ranging from simple supports to workstations with drawers and adjustable legs. Whichever solution you are looking for; an easy to use and practical riser or a more feature rich professional version, you will find a wide selection here and all at great prices.
But what if you don't use a desktop PC and monitor at work? No problem, take a look at our range of laptop risers. These ergonomic devices ensure your screen is at the right height â€" great for those of us who use a laptop for extended periods.
As well as laptop and monitor risers you will also find a selection of screen filters that can reduce glare from the screen. Using a filter is another effective way to combat the eye strain and fatigue that can often affect computer users.
Ergonomics at Ebuyer.com
Here at Ebuyer you will find everything you need to transform your workspace. Check out our full range of ergonomic equipment including wrist supports, foot and back rests and, of course, monitor risers. And, if you place your order today, we can deliver tomorrow (terms and conditions apply).