Shelves & Shelving Units
Brand
Price
Shelving Units and Stands from Ebuyer.com
While the digital age has largely resulted in a reduction in the amount of paper used for communication and admin, keeping a hard copy of important documents is a practice that has not been entirely ruled out. As such, many offices still have boxes upon boxes of paperwork that needs to be stored somewhere. Ebuyer can help with its wide range of shelving and storage solutions.
Read

more

less

...
Shelve It In Style
Of course, file boxes of paperwork aren't the only things that need to be kept neatly out of the way. Ebuyer's shelving units can also come in handy for storing and organising stock, no matter what business you're in.
Manufactured by a variety of trusted companies, Ebuyer's range of shelving and stands are easy to assemble and sturdy enough to handle heavy-duty use, day after day, year after year. Adjust the shelves to the ideal height for whatever it is you're storing and keep your items in a neat arrangement for easy retrieval at any time.
At Ebuyer, we stock a wide range of shelving units and stands suitable for both business and personal use. Find your perfect shelving units using the filters on the left of the screen. Don't forget that with Ebuyer you always get fast delivery and low prices.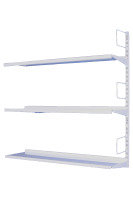 Wall mounted shelving unit for storing and archiving
Bookends prevent loss of files
Takes up next to no space
QuickFind: 436103 | Mfr part code: ZZXTS4WH100T1002
QuickFind: 438101 | Mfr part code: 379051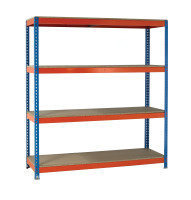 QuickFind: 438105 | Mfr part code: 379034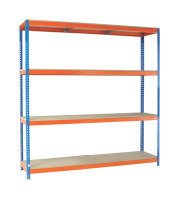 Requires no nuts and bolts in assembly
Unit and shelves simply tap together and are easily adjustable...
Comes with 4 high density chipboard shelves with a 400kg capacity...
QuickFind: 438109 | Mfr part code: 379228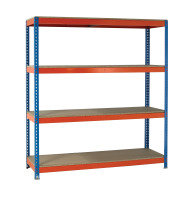 QuickFind: 438120 | Mfr part code: 379077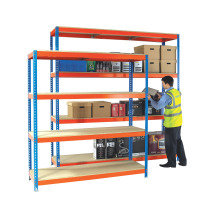 For heavy duty boltless shelving
Extra high density chipboard shelf
Maximum weight capacity 600kg
QuickFind: 438152 | Mfr part code: 378859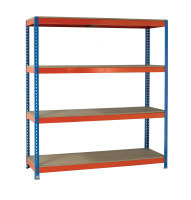 QuickFind: 438250 | Mfr part code: 379028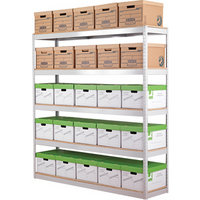 Shelving unit for long term storage and archiving
Height adjustable particle board shelves
Suitable for 20 standard archiving boxes
Dimensions: 1500x450x1880mm (WxDxH)
QuickFind: 614011 | Mfr part code: STS834556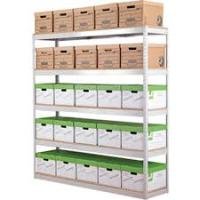 Simple solution to storage
Each case is easily assembled
Steel framework for durability
Height adjustable particle board shelves
Accepts 15 standard archive boxes
QuickFind: 614013 | Mfr part code: STS834555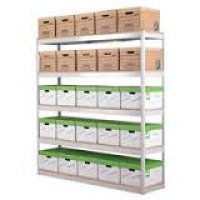 Shelving unit for long term storage and archiving
Boltless for easy assembly
Height adjustable particle board shelves
Sturdy and secure steel framework
Suitable for 25 standard archiving boxes
QuickFind: 614016 | Mfr part code: STS834557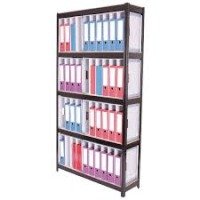 Shelving unit for easy storage and archiving
Adjustable shelves allow you to customise your units
Easily constructed, without any bolts
QuickFind: 712539 | Mfr part code: STS834450