Steps and Step Ladders
Subcategory
Brand
Price
Type
Steps and Step Ladders from Ebuyer.com
Businesses, libraries and schools will find plenty of use for the steps featured on these pages. Lightweight and portable (some varieties have retractable castors) they can be moved wherever needed, yet their rugged construction means they are robust and able to withstand plenty of use. Invaluable in all environments 2,3 or four tread steps are available as shown on these pages along with step ladders and other reaching equipment in the general supplies section.
Read

more

less

...
The rubber feet not only prevent the steps marking carpets and flooring when in use but also but also provide firm anchorage for improved safety. The anti-slip rubber treads are a further safety measure that ensures anyone using the steps has a firm and secure footing.
Ladders and platforms
As well as sets of steps we also stock a large range of other ladders, steps ladders and work platforms. Step ladders have loads of uses in the workplace and home, are fairly light and easy to move around and very affordable.
For reaching greater heights double section ladders, manufactured to industrial standards, can be used for everything from fixing roof tiles to cleaning out the guttering around the building. For more stability when working either inside or out a work platform is ideal. Available in different sizes these slip resistant platforms add a level of safety for all workers.
Facilities supplies
Check out the full range of facility and janitorial supplies stocked by Ebuyer.com and discover great discounts and deals. Order today for delivery tomorrow (terms and conditions apply).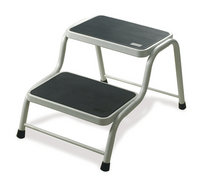 Static two step stool for easy access to high shelves.
with ant-slip rubber treads for added grip and 180mm space between...
Dimensions: W380 x D655 x H440mm.
QuickFind: 379942 | Mfr part code: SSHS2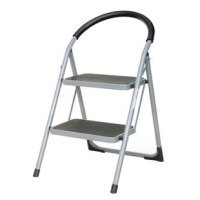 Grey painted steel frame with black slip resistant treads
Rubber handles for extra comfort
Comply to EN131 standards
Load capacity 100kg
QuickFind: 385240 | Mfr part code: 359293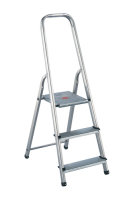 600mm safety rail
Non-slip feet
Lightweight aluminium and steel construction
QuickFind: 388295 | Mfr part code: 358737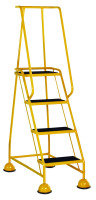 4 tread step for a range of uses
Fully welded tubular steel construction
Sheet metal treads with ribbed rubber surface
Features non-marking castors
Tread depth: 80mm
QuickFind: 433758 | Mfr part code: 385141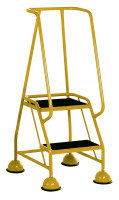 2 tread step for a range of uses
Fully welded tubular steel construction
Sheet metal treads with ribbed rubber surface
Features non-marking castors
Tread depth: 80mm
QuickFind: 433770 | Mfr part code: 385133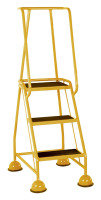 3 tread step for a range of uses
Fully welded tubular steel construction
Sheet metal treads with ribbed rubber surface
Features non-marking castors
Tread depth: 80mm
QuickFind: 433772 | Mfr part code: 385137