Punched Pockets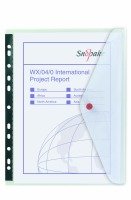 Capacity: 35 sheets of 80gsm A4 paper
Pack of 5
QuickFind: 619319 | Mfr part code: 12566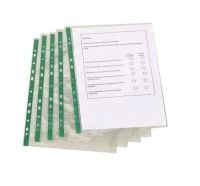 Size: A4
Pack of 100 pockets
Anti-glare finish
65 microns thick
QuickFind: 378101 | Mfr part code: KF01121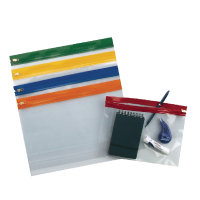 Extra strong transparent polyethylene bags
Tough plastic closure with metal zip pull
For storage, filing and organisation
A3-sized storage (480x350mm)
QuickFind: 197561 | Mfr part code: 12823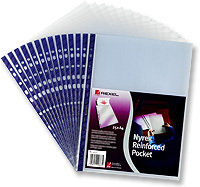 Rexel Nyrex Reinforced Pockets - NPR/A4.
Top quality pockets manufactured from premium Nyrex material,...
Top Opening.
Size: A4.
QuickFind: 376688 | Mfr part code: 12233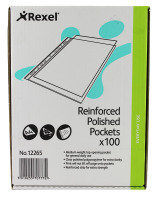 Rexel Copyking Pockets CKP/A4.
Manufactured from polished anti-static material which helps prevent...
Top opening with a reinforcing strip (Green) to provide extra...
QuickFind: 376695 | Mfr part code: 12265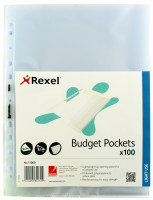 Rexel Economy Punched Pockets, ideal for large volume filing....
Lightweight, top opening polypropylene pockets, multi-punched to...
Size: A4.
QuickFind: 376698 | Mfr part code: 11000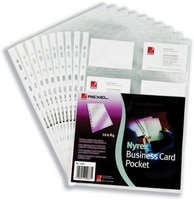 Rexel Nyrex Easy Up-Date Pocket.
Premium quality, glass clear A4 grey strip pocket with top and side...
QuickFind: 376702 | Mfr part code: 13682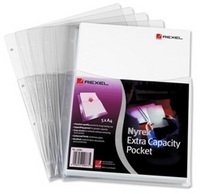 Nyrex quality pocket with gussets on sides and bottom allowing storage...
Opens at top on 2/3rd of its length for quick and easy access to entire...
QuickFind: 376705 | Mfr part code: 13680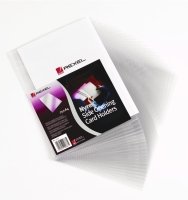 Glass clear Nyrex protection for all types of material.
Contents remain neat, clean and clearly visible, particularly useful...
Sealed on three sides for complete protection.
QuickFind: 376748 | Mfr part code: 12020
Q Connect business card punched pockets.
A4 pockets with 10 compartments to accommodate 20 business cards....
Multi-punched to fit most ring binders.
80 micron.
QuickFind: 377715 | Mfr part code: KF00716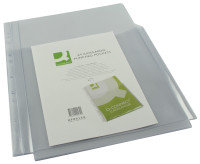 Q Connect Expanding Punched Pockets.
Multi punched , top opening, durable, gusseted, PVC, 180-micron...
QuickFind: 378098 | Mfr part code: KF00139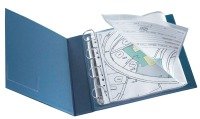 Q Connect A3 landscape punched pockets.
Top opening multi-punched pockets that fold into A4 portrait size....
80 micron.
QuickFind: 378102 | Mfr part code: KF00715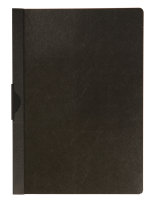 Quality A4 presentation folder ideal for storing and presenting...
Simple to use, just pull out the clip, insert your papers and push the...
PVC with a transparent cover and coloured back.
QuickFind: 378105 | Mfr part code: KF00459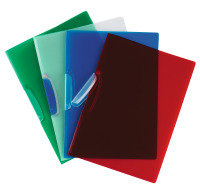 Q Connect Swingclip Files.
Modern attractive presentation files with a simple pivoting clip that...
Capacity - up to 30-sheets of 80gsm paper.
Size - A4.
QuickFind: 378112 | Mfr part code: KF02134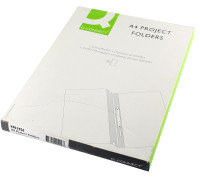 Q Connect Project Folders.
Quality light weight folders with a glass clear front, coloured opaque...
Colour - Clear/Green.
QuickFind: 378115 | Mfr part code: KF01456