Bridge & Compact System Cameras
Subcategory
Price
Brand
Optical sensor / sensor resolution
Battery / battery form factor
Display diagonal size
If you are interested in photography, but not ready to go down the digital SLR route, then a bridge camera is perfect. They have a multitude of features and you'll be able to capture great quality pictures. Taking parts of both compact camera and DSLR cameras, bridge cameras are smaller and less expensive than DSLR and have fixed lenses. However, like the DSLR, they feature full manual controls and larger zoom lenses like this
Sony camera
.
A new style of camera becoming more and more popular is the Compact System Camera. Similar to a compact in size but with DSLR-like controls, this type of camera is a step between the two. Easier to handle than a DSLR, you'll still enjoy high quality images, power and interchangeable lenses. It also comes with either an electronic viewfinder or no viewfinder at all.
Read

more

less

...
The main difference between the compact system camera and DSLR is that there is no mirror mechanism in the compact, so you have clearer images and less bulk. It also allows for a large digital sensor, which makes it great whatever the lighting conditions. It's not completely manual though, as intelligent automatic features let you take great pictures even if you're not a professional.
If you think a Compact System Camera is one step too advanced, take a look at the
digital compact cameras
.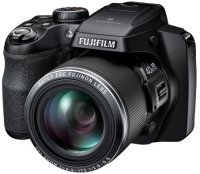 40x optical zoom with powerful OIS
16-megapixel sensor and fast autofocus
Full HD movie with stereo sound
High Performance Shooting Function
Easy upload and sharing