E-readers
E-readers have become multi-tasking devices and now you can do much more than simply read your books, magazines and newspapers. Many models let you surf the net with WiFi connection, download and watch your favourite TV programmes and films, and play games. However, ebook readers are still the ultimate device for letting you take your book collection with you, without the excess weight. In fact for as little as 0.39kgs in weight, you could take 30,000 books with you on holiday.
Read

more

less

...
At Ebuyer.com you'll find affordable e-readers that have many of the features of top branded devices, without the price tag. The
Kobo Arc e-reader
is a seven inch device with HD resolution and support for 3D games. It also has extra wide viewing angles.
The
Archos e-reader
has a camera function and photo playback as well as micro USB cable for charging and transfer.
If you would prefer a similar size mobile device that gives you far more options take a look at our
tablet PC range
.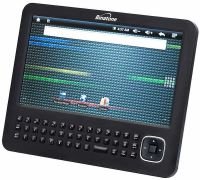 Android Tablet E-reader
7" Screen + QWERTY keypad
2G internal memory
Wi-Fi 802.11 b/g
Android 2.1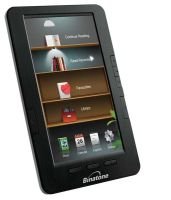 7" Colour TFT
Up to 4 hours battery
Built-in 128MB
DRM compatible