Xenta 140 Piece Computer Maintenance Tool Kit
QuickFind: 843097
Mfr part code: STK-28145

140 piece Ultimate toolkit
Great maintenance kit for computer professionals or keen PC builder/ Gamer
All tools come in an organised and compact case
Product Description
Xenta 140 Piece Computer Maintenance Tool Kit
This is the ultimate toolkit for the computer professional or keen PC builder and gamer. The kit contains all the tools and accessories you need. And everything is neatly packed away in a compact and sturdy carry case.  
Xenta have a reputation for producing high-quality tech at amazing prices. And this computer maintenance toolkit is no exception. All the tools are well-made and fit nicely into the case. The case itself is made from heavy duty plastic. It opens flat for easy access. All your tools and accessories are at your fingertips. Inside the case Open the case and you'll find everything from a mini hammer to a socket set to insulated tape. In short everything you need to repair and maintain your computer and other electronic devices.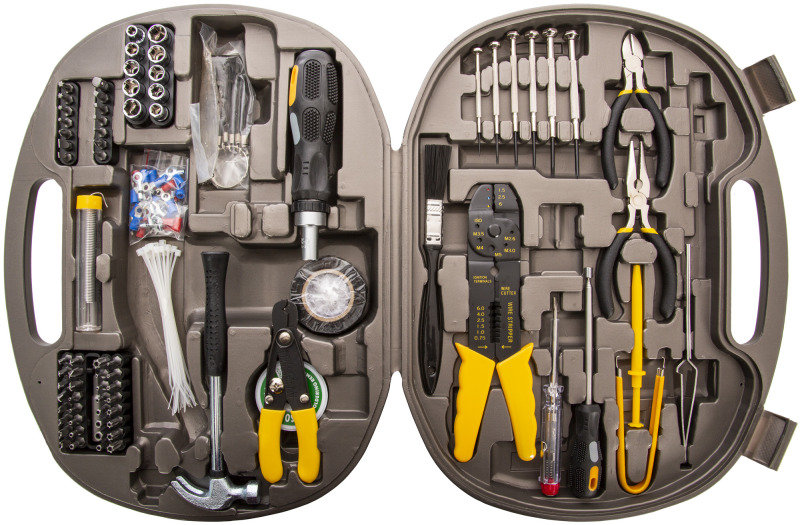 Included
5" Wire Cutter/Stripper

8" Crimping Tool

Brush

Solder Wick

Solder Reel

Mini Hammer

9Pcs Allen Wrenches

Cable Ties

Magnetic Telescoping Pick Up Tool

Electronic Voltage Tester

33Pcs Security Bit Group:

Torx: 6, 8, 10mm

Torx Security: TS8, TS10, TS15, TS20, TS25, TS27, TS30, TS35, TS40

6Pcs Hex Key: 5/64", 3/32", 7/64", 1/8", 9/64", 5/32"

6Pcs Hex: 2, 2.5, 3, 4, 5, 6mm

4Pcs Tri-ing: 1, 2, 3, 4

4Pcs Spanner: 4, 6, 8, 10 mm

3Pcs Torq: 6, 8, 10mm

1Pc 60mm Magnetic Bit Holder

7Pcs Assorted Bits:

4Pcs Star: T10, T15, T20, T25

2Pcs Slotted: SL4, SL6mm

1Pc Philip: PH1

7Pcs Assorted Bits:

4Pcs Square: S0, S1, S2, S3

1Pc Pozi: PZ1

1Pc Adaptor Bit for Socket

5Pcs Sockets: 3/16"-1/4"-5/16"-11/32"-3/8"

5Pcs Sockets: 6-7-8-9-10mm

Reversible Ratchet Handle

42Pcs Terminals

Tweezers Serrated Inside Point

5" Long Nose Pliers

4-1/2" Side Cutter

6Pcs Precision Screwdriver Set

IC Extractor

3-Claw Parts Retriever

Insulated Tape

Blow Mold Case
Ask an Owner
Xenta 140 Piece Computer Maintenance Tool Kit
Product Discussion
Xenta 140 Piece Computer Maintenance Tool Kit
Our comments box is a great way for you to view other people's feedback about products on Ebuyer.com, and add your own.
This tool is open to everyone.
You are responsible for the contents of your comments and any consequences that may arise as a result of them.
Comments that contain any of the following will be deleted: terms considered explicit and inappropriate; defamatory, obscene, unlawful, harmful, or offensive.
Sorry, this product is currently out of stock.
Enter your email address below if you would like to be informed when this product is back in stock.
By entering your email address here you are agreeing that you would like to be notified when this product is back in stock and you have read and agree to our privacy policy