Wireless Car Smartphone Charging Cradle with Auto-Open/Close
Wireless Car Smartphone Charging Cradle with Auto-Open/Close
QuickFind: 921193
Mfr part code: CRA001
Wirelessly Charges Compatible Smartphones
Infra-Red Sensor for Automatic Open/Close
Powered by USB - Includes Brackets for Air Vent & Windscreen Mounting
Product Description
Wireless Car Smartphone Charging Cradle with Auto-Open/Close
Wireless Car Smartphone Charging Cradle with Auto-Open/Close
In today's fast-paced world, we need to utilise all the time we have - and that's where the Wireless Car Smartphone Charging Cradle comes in. While you're busy getting from A to B, your mobile will be powering up for maximum use. You'll never be short of power when you need it. A quality product at an unbeatable price.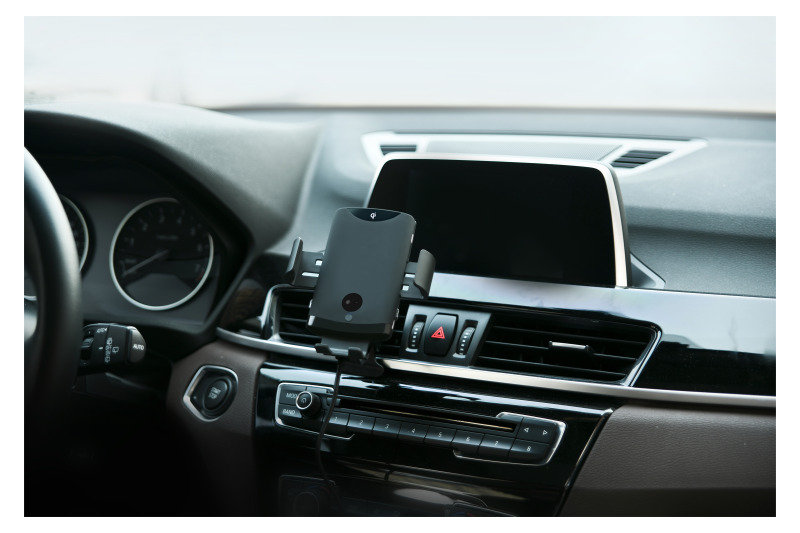 The end of struggle
Infra-red sensors automatically open and close the clasp to grip your smartphone, so there's no more struggling to get your mobile in to the cradle.
Easy mounting
Convenience is king these days, and with the Wireless Car Smartphone Charging Cradle you get quick and easy installation. The device includes brackets for air-vent and windscreen mounting. Your life has just been made a little easier!
Wireless charging
The Smartphone Cradle features wireless charging for fast in-car charging. It's the ultimate in travelling convenience. And remember, it supports major brands: Samsung, Huawei and iPhones. Arrive fully-charged and ready to rumble!
Looks the part
No matter what the product is built for, it's always nice to have a stylish bit of kit in your car - and the Smartphone Charging Cradle looks stylish and futuristic. 
Specifications
Wirelessly Charges Compatible Smartphones

Infra-Red Sensor for Automatic Open/Close

Powered by USB - Includes Brackets for Air Vent & Windscreen Mounting

Supports Samsung, Huawei, LG 10W & iPhone 7.5W Fast Wireless Charging with QC 2.0/3.0 Car Charger
Ask an Owner
Wireless Car Smartphone Charging Cradle with Auto-Open/Close
Product Discussion
Wireless Car Smartphone Charging Cradle with Auto-Open/Close
Our comments box is a great way for you to view other people's feedback about products on Ebuyer.com, and add your own.
This tool is open to everyone.
You are responsible for the contents of your comments and any consequences that may arise as a result of them.
Comments that contain any of the following will be deleted: terms considered explicit and inappropriate; defamatory, obscene, unlawful, harmful, or offensive.
In Stock

Click & Collect available
{{#lists}}
Add-ons and Accessories
Recommended