Politicians around the world are considering options to force Facebook and other networks to protect users from scams and fraudulent advertising. The social media giant has already taken steps by removing crypto-currency ads from its site.
Facebook has banned adverts for Bitcoin and other cryptocurrencies on its sites after recent criticism from users about scams and hoaxes being promoted in their newsfeed.
Tell us something we don't know
The world's biggest social network said such digital currencies are "frequently associated" with "deceptive promotional practices".
"Two of our core advertising principles outline our belief that ads should be safe, and that we build for people first," said Rob Leathern, a product manager at Facebook, announcing the changes.
"Misleading or deceptive ads have no place on Facebook."
The new policy puts adverts for crypto-currencies in the same category as drugs, weapons and surveillance equipment in Facebook's prohibited content, meaning even legitimate advertisers of Bitcoin and other digital currencies are now banned from promoting their products.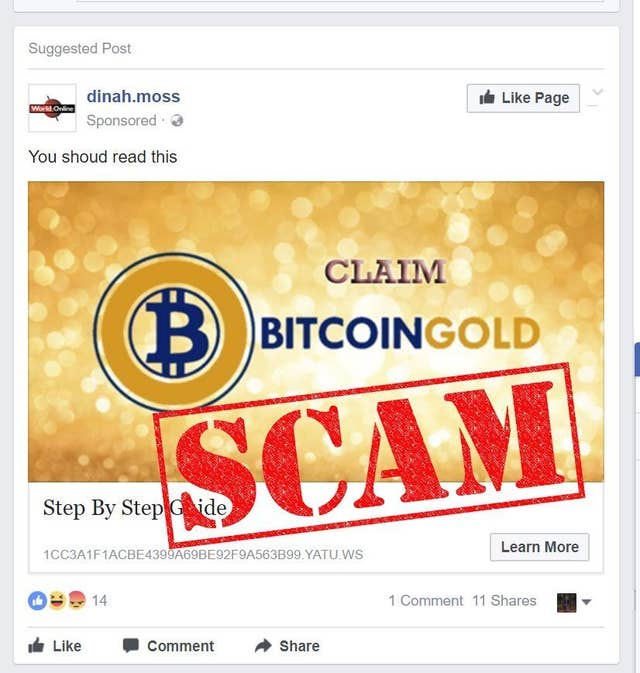 Mr Leathern said the policy is "intentionally broad", while engineers at the company work on better ways to detect misleading or deceptive advertising.
He also promised that rules around advertising would be better enforced across Facebook and its sister company, Instagram, as well as the company's advertising platform, Audience Network.
Rasmus Kleis Nielsen, a professor of political communication at Oxford University who specialises in the media, praised the move to ban crypto-currency ads as "a step in the right direction".
"If it is accompanied by more effective enforcement of their advertising policies and greater transparency around how these are enforced and what kinds of ads are served, it will help reduce the room for misinformation on the platform," he said.
What prompted Facebook to ban crypto-currency ads?
The move comes weeks after the Press Association reported on multiple scams appearing in people's newsfeeds under the guise of quick ways to make Bitcoin and other crypto-currencies.
"It is wrong that social media companies, such as Facebook, are profiting from phishing scams and fake adverts that are harmful to their platform's users," said Damian Collins MP, chairman of the parliamentary inquiry into fake news, at the time.
Facebook made more than 10 billion US dollars from advertising in the year to September 2017, but pressure from legislators is mounting as many do not believe the company is doing enough to protect its users.
Germany is threatening to limit how Facebook collects data from its two billion users – which it uses to help companies target their ads – following a December report from the Federal Cartel Office which found that the company was abusing its dominant market position.
Last October Facebook reported that almost 150 million people may have seen Russian efforts to sway the 2016 US election on its platform, during a hearing at the House Intelligence Committee in Washington.
Facebook aren't the only ones in the firing line
Facebook isn't the only internet giant taking heat from politicians, as both Google and Twitter have come under increasing pressure to crack down on misinformation, fraudulent advertising and extremism on their platforms.
All three companies are due to give evidence to MPs from the Digital, Culture, Media and Sport Select Committee about possible Russian meddling in the Brexit vote during a special hearing in Washington on February 8.
* Prices correct at time of posting.