A self-flying taxi just took a big step (flight) towards reality, thanks to an American start-up and its ambitious plans for pilot-less passenger aircraft.
Aircraft company Kitty Hawk, which is backed by Google co-founder Larry Page, is working with the New Zealand government to test and certify its autonomous electric vehicle called Cora.
According to the firm, it already has an experimental airworthiness certificate from the New Zealand Civil Aviation Authority (CAA) and the United States Federal Aviation Administration (FAA).
The Cora's launch is said to be slated for sometime in 2021.
Like other passenger drone concepts such as Volocopter and the Airbus flying taxi, the Cora will land and take-off vertically.
It combines electric power, self-piloting software and vertical take-off to pioneer an entirely new way to fly, the company said.
The Cora will be powered by 12 lift fans spread across its wings with a single propeller for horizontal flight.
The self-flying taxi is expected to achieve a maximum speed of 110 miles per hour (180kph), cruising at an altitude of around 3,000 feet (914m).
However with a wingspan of 36 feet (11m), the Cora isn't exactly small and its electric motors only have enough capacity to carry it about 60 miles.
According to Kitty Hawk, the two-seat self-flying taxi will be equipped with three redundant flight computers that can control the Cora in the event of an equipment failure.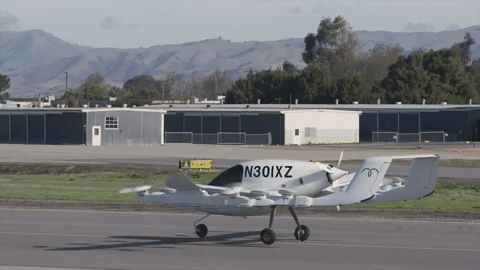 The self-flying taxi will have an emergency parachute to land in case its fans stop working.
Kitty Hawk hasn't provided an estimate for how much each plane will cost to build or how much the company is planning to charge for a flight.
The company says the Cora will "use self-flying software combined with human oversight to make flying possible for people without training".
Sounds exciting, dangerous and inevitable. And a couple of years ago we though Uber was revolutionary.