Celcus TVs
Designed for your home and your own unique viewing requirements, Celcus LED TVs bring you more choice - more entertainment - offering a great value TV experience in a wider range of styles and screen sizes.
A Range of Sizes
Whether you're looking for a compact TV for your bedroom or kitchen, or a bigger screen for the family room, you can find your perfect TV match from our extensive 22"-49" TV range.
Superior Sound
Designed for exceptional sound quality, each Celcus TV comes with built-in DTS TruSurround, bringing you clearer, more authentic-sounding on-screen dialogue that can be heard from all directions.
Connectivity
All Celcus TVs from TV/DVD combis to smart and big screen 4K UHD TVs come with at least 2 HDMI ports, making it easy to connect them to games consoles and Blu-ray players. You can also use the screens as second PC monitors, even having the option of connecting them to traditional VCRs, or of uploading some more viewing material via USB.
Stylish modern design
Offering an instant style update for any room in the house, Celcus TVs are made with sleek and streamlined bezel designs, always providing, as standard, extra viewer benefits, including 60 popular Freeview channels and a whole host of connection options.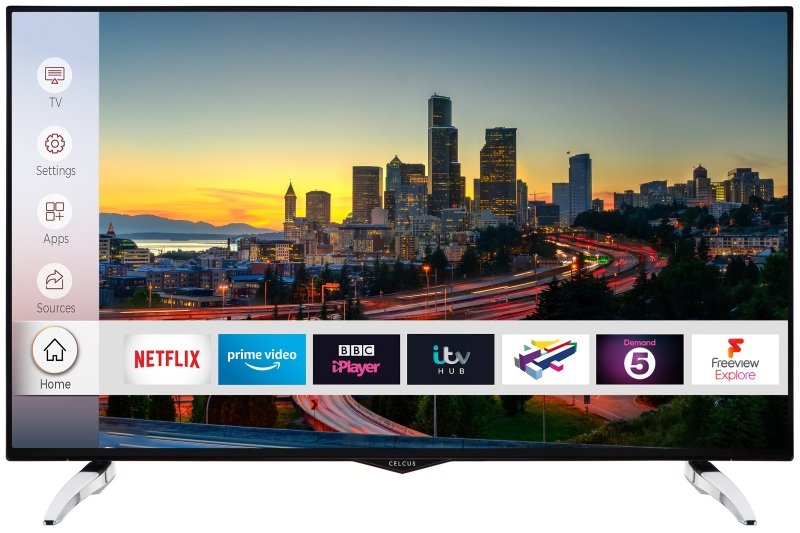 Celcus 49" 4K Ultra HD Smart TV
4K Ultra HD Resolution
Smart TV
FreeviewPlay & Netflix
DTS TruSurround HD
£279.96
inc.vat
BUY NOW