Ebuyer Recommends
PC Specific Memory RAM
(1)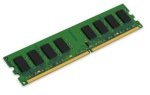 All Kingston memory modules are 100% tested
All system specific memory comes with free
technical support
Customised and tested to meet the exact
specifications of each system
All Kingston memory modules are 100% tested
All system specific memory comes with free
technical support
Customised and tested to meet the exact
specifications of each system
QuickFind: 143099 | Mfr part code: KTD-DM8400B/2G
Return to top
PC Memory
We are all making more demands on our PCs. We create presentations, surf the web and send emails, listen to music, stream videos and play games. All these tasks take up plenty of resources and to enable your machine to cope with all these demands it is vital to ensure the machine has sufficient memory for the different tasks it is expected to perform.
The Importance of PC Memory
If your PC is slow to respond or is unable to run intense applications without hanging or freezing it is likely to need more memory. Adding a new memory module from a company such as Kingston or Hewlett Packard will enable your computer to cope with multiple tasks without any slowdown in performance.
Installing a new PC memory module is a very low cost way of improving a computers performance. And, if you are looking for specific PC memory, we have a range of modules designed for particular computers.
Order from Ebuyer
Choose your PC memory from the wide range we have available; order today and take advantage of the low prices always on offer here at Ebuyer.