Walkie Talkies & Two Way Radio
(6)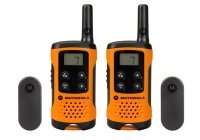 Twin Pack Two Way Radio License Free
Up To 4km Range Subject to Terrain
For Use On 446 MHZ
1 Year Warranty for Peace of Mind
QuickFind: 703801 | Mfr part code: P14MAA03A1BJ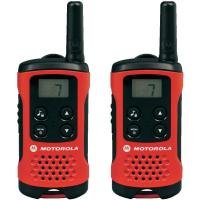 Twin Pack Two Way Radio License Free
Up To 4km Range Subject to Terrain
For Use On 446 MHZ
1 Year Warranty for Peace of Mind
QuickFind: 659901 | Mfr part code: P14MAA03A1BB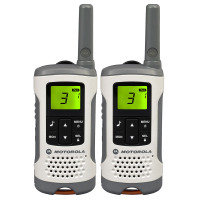 Twin Pack Two Way Radio License Free
Up To 6km Range Subject to Terrain
For Use On 446 MHZ
1 Year Warranty for Peace of Mind
QuickFind: 659899 | Mfr part code: P14MAB03A1AU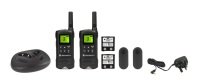 PMR446 radios – license free - Free Calls
Up to 8km range, 8 Channels + 121 codes
Rechargeable NiMH batteries (supplied)
Headset Connector
Free Delivery
QuickFind: 703804 | Mfr part code: P14MAB03A1AY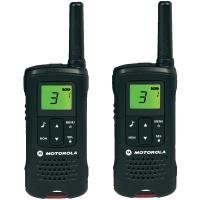 Twin Pack Two Way Radio License Free
Up To 8km Range Subject to Terrain
For Use On 446 MHZ
1 Year Warranty for Peace of Mind
QuickFind: 659903 | Mfr part code: P14MAB03A1AV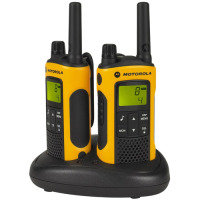 Twin Pack Two Way Radio License Free
Up To 10km Range Subject to Terrain
For Use On 446 MHZ
3 Year Warranty for Peace of Mind
Free Delivery
QuickFind: 659900 | Mfr part code: P14MAB03A1AX
Return to top
Walkie Talkies From Ebuyer.com
Depending on your personal experience, a walkie talkie might either be a tool you associate with work or a handy leisure gadget you bring out every so often. If you're in neither of these groups and have only seen walkie talkies in action on TV in police procedurals, perhaps it's time to consider how practical and versatile a tool they can be in an everyday civilian setting.
Wherever you use it, a walkie talkie is an indispensable piece of kit for communicating with others over distance or when they're out of sight. You might need to ask a question of someone at the opposite end of the building; then again, you might be on a group hike and need to check that everyone's still heading in the right direction. Whether you need shorter or longer distance coverage, Ebuyer has what you need with a range of radio communication devices from 4km right up to 10km.
Talking Tough
Building site or camp site. Beach holiday or cycling holiday. Wherever you're planning on using your walkie talkie, you want your handset to be tough enough to withstand knocks, splashes and accidental drops. You also want it to deliver crisp, clear sound capable of competing with everything from the burble of conversation to the clamour of a busy factory or worksite.
Hearing The Benefits
The main benefit of a walkie talkie compared with a phone or a hearty holler is that it provides instant communication. There's no waiting around for the other person to pick up and the acknowledgement comes back to you loud and clear. There's also no license or subscription required, so no chance of the line cutting out due to an unpaid bill or lapsed membership.
Unlike many of the fancy phones we're used to communicating with these days, Ebuyer's collection of walkie talkies are built to last. As well as meeting military specifications for protection against dust, wind, vibration and shock, an antimicrobial coating helps prevent the growth of mould and other germs on the surface of the radio. It's a reassuring feature as your handset could come into contact with all sorts while being clipped to your belt.
You've Got The Power
Walkie talkies need power in order to do the things they do well. All models come with rechargeable batteries as standard, which can be topped up via a docking station attached to mains power. If you use and recharge your walkie talkie wisely, it can give you up to five years of faithful service in the field.
Besides transmitting, receiving and converting radio signals into the dulcet tones of colleagues and friends, a walkie talkie uses power to display figures on its eay-to-read, backlit LCD screen. It can also produce a range of sounds when you interact with the programmable keypad buttons or when you're selecting your preferred call signal.
Radio Communication Sorted At Ebuyer
Whether you're looking for a replacement set of walkie talkies for your security crew or you're in the market for a convenient way of keeping track of the kids at the beach, Ebuyer has a solution for you. Offering brands you can trust at prices you can't afford to miss, there is no better time to enter the world of radio communications.