Ebuyer Recommends
AORUS Gaming Laptops
(2)
Free Delivery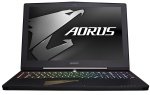 Intel Core i7-8850H 4.3GHz
16GB, 1TB HDD, 512GB SSD
17.3" Full HD + WIFI
NVIDIA GTX 1080 8GB
Windows 10 Home
Free Delivery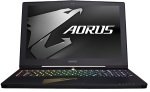 Intel Core i7-8850H 4.3GHz
16GB, 1TB HDD, 512GB SSD
15.6" Full HD + WIFI
NVIDIA GTX 1070 8GB
Windows 10 Home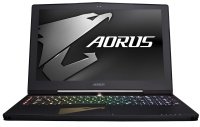 Intel Core i7-8850H 4.3GHz
16GB, 1TB HDD, 512GB SSD
17.3" Full HD + WIFI
NVIDIA GTX 1080 8GB
Windows 10 Home
Free Delivery
QuickFind: 846038 | Mfr part code: X7DTV8-CF1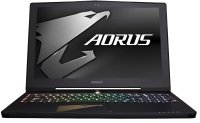 Intel Core i7-8850H 4.3GHz
16GB, 1TB HDD, 512GB SSD
15.6" Full HD + WIFI
NVIDIA GTX 1070 8GB
Windows 10 Home
Free Delivery
QuickFind: 846033 | Mfr part code: AORUSX5V8-CF1
Return to top
So you want a gaming laptop? If you're not looking for a monster of a machine that can handle everything you throw at it, including VR, then stop scrolling and click return as that's exactly what you'll get with an AORUS gaming laptop.
Each AORUS laptop has been designed to make use of every last bit of power from the best components about. They're big, mean and contain jaw-dropping specs such as seventh-gen i7 processors, ultra high-definition monitors and NVIDIA GTX graphics cards that will handle even the newest games without batting an eyelid. Add in up to 32 GB of RAM and gigantic HDDs and SSDs, and you have a powerhouse that's so good you'll never be able to blame lost matches on your hardware!
Take a look through the wide range of brilliant AORUS laptops on offer above, then enjoy secure, free delivery to wherever you are. Then there's the Ebuyer price match promise, which guarantees you won't feel regretful if you find the same laptop cheaper elsewhere within seven days of purchase. Find a futureproof laptop with Ebuyer today.