HP Gaming PC
HP are a well-known brand in the world of tech. Here you'll find the American technology company's gaming PCs, featuring the latest specifications at an affordable cost.
Not only are HP gaming PCs well-equipped to provide the ultimate gaming experience, they're also built to look sleek and sophisticated alongside your existing kit, helping to provide the equipment that not only performs well, but looks the part too.
Use the filters to narrow your search and find the specification you're after today - you'll find the full range of HP gaming PCs available from Ebuyer below.
Read more...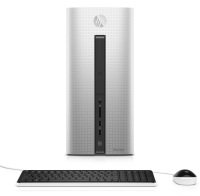 AMD Quad-Core A10-7800 3.5GHz
16GB RAM + 2TB HDD + 128GB SSD
AMD Radeon R9 360 2GB
DVD Writer + WIFI
Windows 10 Home 64bit
QuickFind: 740952 | Mfr part code: T1J14EA#ABU
Return to top
With up to 32GB of RAM, Windows 10 and a speedy processor, HP gaming PCs are fast, reliable, and built to ensure your gaming experience runs as smoothly as possible.
Not only this, but these PCs are built to withstand competition-style pressure, so when you're getting stuck in to a game, you can rest assured your PC will keep up, with breath-taking graphics, and all the customisable options you could wish for.
We also offer free delivery on orders over £49.99, and our price match promise ensures you get a great deal.
Find the gaming PC you need in the Ebuyer range, and don't hesitate to get in touch with us if you need any advice on the best way to go.