Gaming & Accessories
(2)
Free Delivery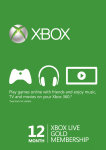 Email Delivery
12 Month Gold Access
Gold Only Discounts
Enjoy online multiplayer gaming
£ 34.41 inc. vat
£34.49
save £0.08
£28.67 ex. vat
£28.74
save £0.07
Free Delivery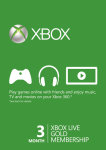 Email Delivery
3 Month Gold Access
Gold Only Discounts
Enjoy online multiplayer gaming
£ 13.96 inc. vat
£13.98
save £0.02
£11.63 ex. vat
£11.65
save £0.02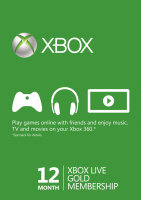 Email Delivery
12 Month Gold Access
Gold Only Discounts
Enjoy online multiplayer gaming
£ 34.41 inc. vat
£34.49
save £0.08
£28.67 ex. vat
£28.74
save £0.07
View Product
QuickFind: 767404 | Mfr part code: S4T-00019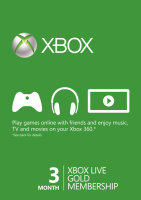 Email Delivery
3 Month Gold Access
Gold Only Discounts
Enjoy online multiplayer gaming
£ 13.96 inc. vat
£13.98
save £0.02
£11.63 ex. vat
£11.65
save £0.02
View Product
QuickFind: 767403 | Mfr part code: S2T-00006
Return to top
Choose from a wide range of gaming accessories here at Ebuyer.com that are compatible with all your favourite consoles.
The Nintendo DS is one of the most popular portable games consoles on the market and there are plenty of reasons why it has become a favourite of gamers young and old around the world.
As with any portable device, you'll be taking your Nintendo DS with you on the move and you'll want to protect it. Take a look at our collection of cases. Choose from stylish cases like this DS Lite Lamborghini sports case, or a Harry Potter pack that is perfect for your DSi or DS Lite - the ideal Christmas present for your little ones.
If Christmas presents or birthday gifts for children are what you're looking for, then a character kit could be ideal. Take the Moshi Monsters 10-in-1 accessories kit. Designed for 3DS, DSi and DS Lite, it includes a protective carry case. You'll also find Hello Kitty and Sonic the Hedgehog kits with accessories including 3D stylus pens, stickers, screen wipes and more.
Lego fans will love the Lego Armour starter kit. The licenced kit features removable Lego tiles and a buildable Lego surface.
And if you'd like to enjoy the best sound from your DS, be sure to check out our range of headphones.
PC Gaming
If you're a PC gaming enthusiast, we have everything you need here at Ebuyer.com to make the most of your PC gaming experience.
Equipment like joysticks, steering wheels and console-style controllers - not to mention specialised keyboards and mice - are just some of the options that will help you to enjoy your time in front of the computer.
Racing lovers will enjoy the thrill of this Speedlink racing wheel designed for PCs and PS3. It features two force vibration motors, non-slip side grips and analogue pedals in a separate pedal block for immersive racing fun.
At Ebuyer.com you'll also find a wide range of gaming keyboards and mice, headsets and gaming surfaces. These devices offer amazing control, not only making the activity more immersive, but helping you achieve higher scores and beating the opposition.
PS3, PSP, PS Vita
Manufactured by Sony, the PlayStation range of games consoles are perfect for gaming on the go. This range includes, PSP, PS3 and PS Vita. Compact, powerful and good-looking, these devices are extremely popular. In fact, PS3 is one of the top-selling video games consoles with a wide range of games, interactive features and an intuitive user interface.
One of the many benefits of the PS3 is that it can also function as a DVD and Blu-ray player, meaning that you don't need to invest in separate machines for entertainment and gaming.
Why not personalise your PS3 with one of our football team skins? Our collection includes Chelsea, Arsenal, Man City, Newcastle and more.
Now you have the look you want, you'll be itching to get started on the gaming. We have a wide range of accessories to add impact to your gaming experience. Choose from flight sticks like this Cyborg FLY 9 wireless flight stick; to microphones, headsets, navigation controllers and gamepads such as this wireless controller from Speedlink. It not only looks good but the ergonomic design really lets you get stuck into your game.
We sell plenty of accessories for other PlayStation consoles too. This Venom Four player Multitap is designed for up to four players on one PS2, while a PSP hand gun will add to your gaming shoot-out fun.
Those who own a PS Vita will love this 7-in-1 starter kit. It comes with protective case, scratchproof screen protector, micro-fibre cloth and game protector cases.
Nintendo Wii
If you want to get in shape for the party season, or your thoughts are already turning to the New Year, then we have a selection of Nintendo Wii fitness accessories to get you active.
This pink Wii fitness board will get you active in style and is compatible with Wii Fit, Wii Fit Plus and many more balance board games.
We also sell this Wii comfort mat. Simply place under your fitness board and it stops the board from moving around. It also acts as a shock absorber so your joints are protected.
One of the many things that makes the Wii special is its wireless controller which features motion sensor technology. This offers a unique experience and it has helped to make the game system a favourite to a wide range of players - not just the traditional gaming demographic.
However, you won't want to run out of power mid game. Take a look at this Speedlink charging system, and make sure the fun never ends.
Xbox 360 and Xbox 360 Kinect
In June 2013 Xbox 360 became the UK's best-selling games console, and it's not hard to see why.
One of the most popular features of the Xbox 360 system is its Xbox Live service. This allows console users to connect directly to the internet to play against people from around the world, as well as watching game previews, downloading games and even watching various forms of entertainment.
The console can even be used as a media player for streaming content to your home entertainment system. At Ebuyer.com you can purchase an Xbox Live 3 or 12 month membership card.
For pure gaming, we have a wide range of controllers and accessories. If you're a nocturnal gamer, or you simply want to be a little different, take a look at this glow in the dark controller - it will certainly become a talking point.
Racing enthusiasts will love the Mad Catz racing wheel - beat the opposition to the winning line.
Make the most of your Xbox 360 system with accessories such as remote controls, chargers and HDMI cables designed specifically for Xbox.