Rice Cookers
Buy rice cookers from Ebuyer at fantastic prices and take all the hassle out of cooking rice - simply pop the rice and water in, switch it on and let the cooker do the rest. A common sight in Asian countries for many years, rice cookers are slowly making their way to the West too as more people discover how convenient they are.
Find a rice cooker in the capacity you need right here from brands like Elgento and Lloytron.
Read more...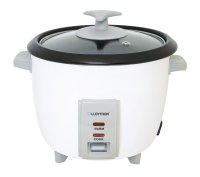 Rice Cooker
Non Stick Removable Rice Bowl
Measuring Cup and Spatula
4 Cup Capacity
QuickFind: 773702 | Mfr part code: E3302
Return to top
If you're a lover of Indian, Thai, Chinese and Japanese food, a rice cooker could be one of the biggest time-savers you'll ever buy - and not only that, it cooks rice just the way it's supposed to be cooked. While many of us boil our rice in pans and serve it immediately, any chef will tell you the ""boil-steam"" method is far superior and results in deliciously tender, fluffy rice.
With a rice cooker, you simply add the desired measures of rice and water, then switch it on. The rice will quickly boil, then steam, and once it's cooked the machine switches to a ""keep warm"" setting automatically, so you don't need to worry about getting the timing just right on your curry or stir-fry.
Buy a rice cooker with a big enough capacity and you can make rice for the whole family while barely lifting a finger - and a non-stick coating means they're easy to clean too. Take a look at Ebuyer's stock of rice cookers right here and see if anything takes your fancy - and don't forget, our price promise means that we'll never be beaten on price!