Ebuyer Recommends
Devolo Network Devices
(15)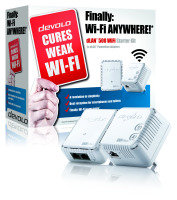 Finally Wi-Fi in any room.
Compact and unobtrusive design.
Integrated LAN port.
Includes 1 dLAN 500 duo and 1 x dLAN 500 WiFi Adapters
£ 45.99 inc. vat
£57.98
save £11.99
£38.32 ex. vat
£48.31
save £9.99
View Product
QuickFind: 501366 | Mfr part code: 9085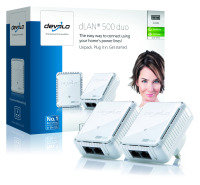 Two 10/100 ports per adapter
Chipset speeds of up to 500Mbps
3yr warranty
£ 25.97 inc. vat
£52.52
save £26.55
£21.64 ex. vat
£43.76
save £22.12
View Product
QuickFind: 566532 | Mfr part code: 9108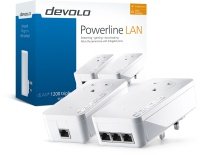 The latest dLAN 1200 triple+ adapter for faster Internet
Three Gigabit ports provide more flexibility
Greater range for better performance
QuickFind: 804690 | Mfr part code: 9909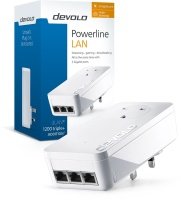 The latest dLAN 1200 triple+ adapter for faster Internet
Three Gigabit ports provide more flexibility
Greater range for better performance
£ 59.99 inc. vat
£73.98
save £13.99
£49.99 ex. vat
£61.65
save £11.66
View Product
QuickFind: 804691 | Mfr part code: 9898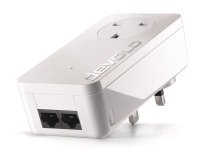 High performance for your multimedia experience
Lightning-quick Internet at up to 1000 Mbit/s
Two LAN ports for twice the fun
QuickFind: 816165 | Mfr part code: 8119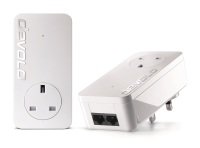 High performance for your multimedia experience
Lightning-quick Internet at up to 1000 Mbit/s
Two LAN ports for twice the fun
QuickFind: 816164 | Mfr part code: 8111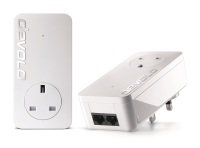 High performance for your multimedia experience
Lightning-quick Internet at up to 1000 Mbit/s
Two LAN ports for twice the fun
QuickFind: 829684 | Mfr part code: EBR1-8111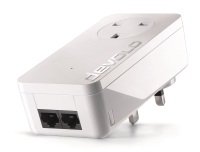 High performance for your multimedia experience
Lightning-quick Internet at up to 1000 Mbit/s
Two LAN ports for twice the fun
QuickFind: 829687 | Mfr part code: EBR1-8119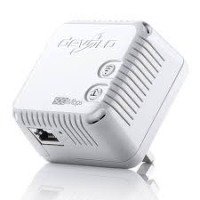 Finally Wi-Fi in any room.
Compact and unobtrusive design.
Integrated LAN port.
Includes 1 dLAN 500 WiFi Adapters
QuickFind: 495446 | Mfr part code: 9078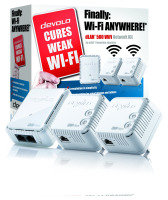 Finally Wi-Fi in any room.
Compact and unobtrusive design.
Includes 1 dLAN 500 duo and 2 x dLAN 500 WiFi Adapters
QuickFind: 501373 | Mfr part code: 9092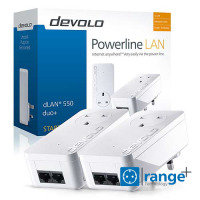 Includes two (2) devolo 9292 550 Duo+ AV 500 HomePlug Adapters...
An ideal entry-level starter kit for your home network via the...
QuickFind: 655599 | Mfr part code: 9299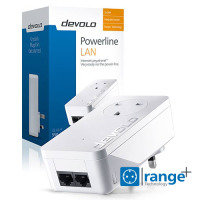 1x dLAN 550 duo+ adapter
Twin LAN
Range + Technology
Powerline Network Adapter
QuickFind: 655600 | Mfr part code: 9292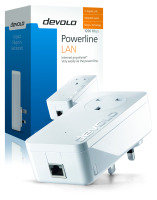 Lightning-fast connection at speeds up to 1,200 Mbps.
Even higher performance with range+ Technology.
Integrated Gigabit LAN port.
QuickFind: 666100 | Mfr part code: 9371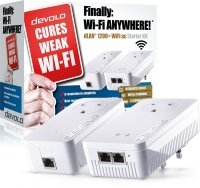 Finally WiFi at ac speeds: Up to 1200 Mbps for smartphones, tablets,...
Four integrated antennas ensure outstanding WiFi ac reception....
QuickFind: 670543 | Mfr part code: 9392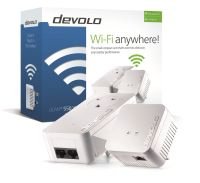 Powerline speeds up to 500 Mbps
Wi-Fi speeds up to 300 Mbps
Ultra-compact design for convenient placement
QuickFind: 750669 | Mfr part code: 9633
Return to top
Devolo Network Devices from Ebuyer.com
All kinds of electronic devices in the home or workplace can be connected with ease, thanks to Ebuyer and our superb range of Devolo network devices. Buy online today! Don't forget that you can restrict your search for Devolo network devices by price bracket and subcategory using the filters on the left. FREE delivery on selected components too!