Ergonomics
Ergonomics from Ebuyer.com
With many of us spending so much time sat at a desk in front of a computer screen ergonomics is becoming increasingly important, especially in the workplace.
Read more...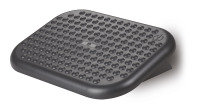 Helps improve posture and circulation
Made of high impact polystyrene
Tilt: 0 - 15 degrees
Platform: 448 x 335mm
Non-slip feet
£ 3.96 inc. vat
£5.99
save £2.03
£3.30 ex. vat
£4.99
save £1.69
View Product
QuickFind: 717041 | Mfr part code: F6E01B8Y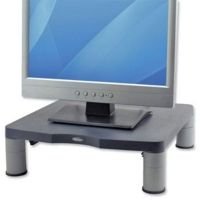 Positions the monitor at a comfortable viewing height
Helps organise the workstation around the monitor
Supports 27kg
£ 17.49 inc. vat
£18.48
save £0.99
£14.57 ex. vat
£15.40
save £0.83
View Product
QuickFind: 371766 | Mfr part code: 9169301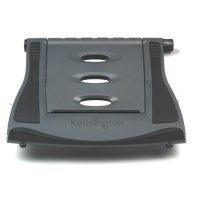 Easel type notebook riser
Multiple Angle Settings
Folds Flat to travel easily
Fits 12" to 17" Laptops
Up to 50 degree tilt angle
QuickFind: 95944 | Mfr part code: 60112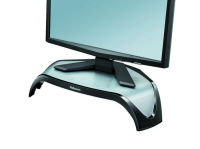 Raises your screen to eye level to prevent neck strain!
Supports up to 21" flat panel monitor or up to 10kg
Includes 3 different height settings
QuickFind: 367059 | Mfr part code: 8020101
Replaces the need for bulky CRT or expensive LCD Monitors
Position your notebook scree at an ergonomically correct height...
Takes up less desk space than a standard riser
QuickFind: 363324 | Mfr part code: LX550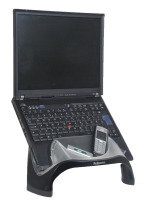 Raises your laptop to prevent neck strain
Supports up to 17" laptop (max 6kg)
4 Port 2.0 USB Hub at the rear
Large accessory tray
Height adjustable (70, 85, 100mm)
QuickFind: 382447 | Mfr part code: 8020201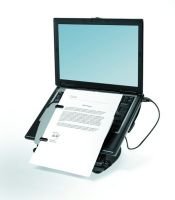 Raises your laptop screen
Nine angle adjustment
Integrated 4 port 2.0 USB Hub
In-line clips and stylish air vents
FIRA Ergonomics Excellence Award Winner
QuickFind: 366198 | Mfr part code: 8024602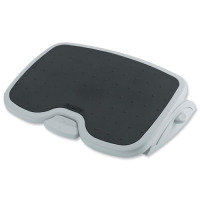 Non-slip surface
Angle moveable with your feet
Can be locked into position
6 different height adjustments
Relieves pressure on the lower back
QuickFind: 75682 | Mfr part code: 56146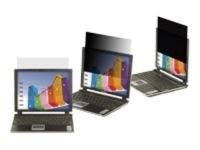 Product Type: Display privacy filter
Display Screen Size Compatibility: 17"
Product Material: Plastic
QuickFind: 353707 | Mfr part code: PF17.0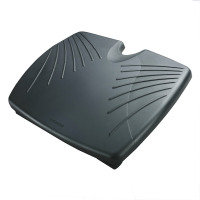 Kensington SoleRest Footrest.
Helps improve posture and circulation by keeping feet and legs...
Non-slip feet enhances overall stability.
QuickFind: 363331 | Mfr part code: 56148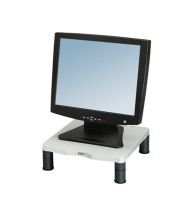 Innovative stacking columns
Helps prevent neck strain
Features 3 different height adjustments from 2" to 4"
Supports 21" monitor or a maximum of 27kg
QuickFind: 364177 | Mfr part code: 91712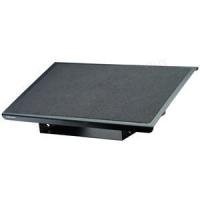 Fellowes Professional Series Heavy Duty Foot Support.
Elevates feet and legs to relieve lower back pressure.
QuickFind: 371717 | Mfr part code: 8064101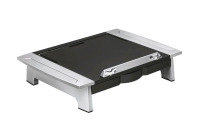 Fellowes Monitor Riser Plus.
Stylish monitor riser with adjustable feet allowing optimal height...
QuickFind: 371767 | Mfr part code: 8036601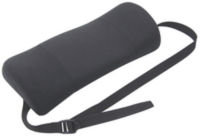 Fellowes portable lumbar support.
Supports back during extended periods of sitting.
High-density foam promotes neutral posture.
Adjustable straps hold cushion in place.
Soft brushed cover can be removed for cleaning.
QuickFind: 371777 | Mfr part code: 9190701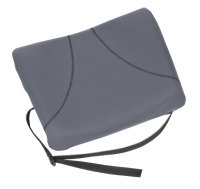 Fellowes slimline back support.
Offers greater flexibility of support to suit the individual user....
Features modern soft touch fabric and adjustable strap with buckle....
QuickFind: 371781 | Mfr part code: 9190901
Return to top
Ergonomics is, of course, all about improving our comfort and efficiency at work. This may be achieved with a more comfortable chair, a wrist support when using a mouse or ensuring the monitor is positioned at the correct level. By taking ergonomics seriously we can help ourselves work smarter and safer.
It's a jungle out there
Neck pain, wrist problems and eye strain can all occur because our work station isn't set up correctly. In addition, back ache caused by poor posture and unsuitable chairs, is a problem that affects more and more of us every day.
So what's the solution?
In a word. Ergonomics. And small improvements to our work station can pay big dividends. Simply using a riser to position a monitor or laptop screen at eye level can make a huge difference by reducing the risk of eye strain and neck pain.
Wrist supports for mice and keyboards can alleviate the problems that some of us experience with our wrists and arms. Lumber supports or back rests positioned on our office chairs can reduce the risk of back problems and posture can be helped further by putting a foot rest beneath our desks.
Standing Work Stations
Becoming more popular, standing workstations are now commonplace in offices. Although they can still be seen as something of a novelty, there are plenty of good reasons why you should consider a standing workstation.
Research has highlighted the dangers of sitting at a desk all day which could to weight gain, increased blood pressure, and even diabetes.
In comparison, using a standing desk for just three hours a day over the working week can equate to the same activity levels as running 10 marathons. A standing workstation can help keep you fitter but is also extremely easy to use and most people are surprised at how more productive they are when standing as compared top sitting.
The range of standing workstations available from Ebuyer include easy to assemble units which can transform your existing desk. Affordable and practical they can be assembled or taken down whenever required.
All those solutions are practical, affordable and very easy to implement. And, at Ebuyer, you will find all you need to transform your workspace into an ergonomic environment that will have the health & safety officers purring with delight. Scroll down the page to see all the products available or use the filter options on the left of the screen to narrow your search.
Great choice at Ebuyer
As well as all the ergonomic equipment on these pages you can also find a wide range of other office essentials. Look through the full selection and discover the great deals we offer every day on all our office supplies. Order today before 11pm for delivery tomorrow (terms and conditions apply).