Ballpoint pens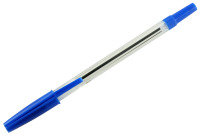 Medium thickness
Blue
Ball Nib
Pack of 50
QuickFind: 384544 | Mfr part code: 893623

Ballpen
Black
Medium thickness
50 Pack
QuickFind: 384543 | Mfr part code: 0052501/1
Bic Cristal Orange Ball Pen.
Lightweight, Orange, hexagonal barrel provides comfortable and...
Fine Point - line width 0.
2mm.
QuickFind: 372228 | Mfr part code: 1199110114
Retractable, rubberised barrel with ribbed finger grips for greater...
Ball point for skip free and blob free performance.
Barrel colour matches colour of ink.
QuickFind: 372298 | Mfr part code: 837397
Felt-tip writing pen
Water-based ink that dries quicker
Designed to prevent ink bleeding through paper
Ultra fine tip for crisp 0.5mm line
QuickFind: 374952 | Mfr part code: S0901321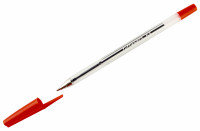 Q Connect Ballpen.
Stick Ballpens with tungsten carbide tip ensures smooth, clear...
Medium tip.
Colour - Red.
QuickFind: 377342 | Mfr part code: KF34044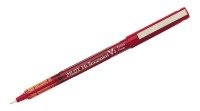 Pilot V5 Needle Tip Rollerball Pen.
Pure liquid ink disposable pens for smooth writing with no skipping or...
Unique ink feed system gives constant line width and greater writing...
QuickFind: 380698 | Mfr part code: BXV502
Stylish gel ink rollerball pen that provides a very smooth writing...
Rubberised grip.
Transparent barrel shows ink level.
0.
QuickFind: 380634 | Mfr part code: 055101201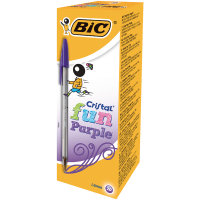 Ballpoint pen with fun purple ink
Durable tungsten carbide ball mechanism
Large 1.6mm tip for 0.6mm line width
Great for posters, displays or colour coordinating your notes...
£ 3.69 inc. vat
£3.99
save £0.30
£3.07 ex. vat
£3.32
save £0.25
View Product
QuickFind: 750014 | Mfr part code: 929055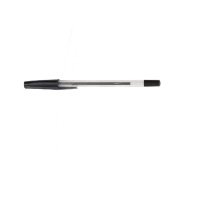 Tungsten nib gives consistent quality
Ergonomic barrel is perfect for long use
Writes up to 2km
Black ink with clear barrel
QuickFind: 792204 | Mfr part code: KF26040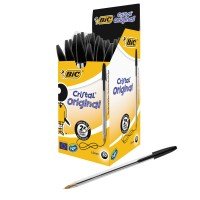 50 pack
Black ink colour
Transparent hexagonal barrel
Medium 1.0mm tip writes a 0.4mm line width
QuickFind: 372279 | Mfr part code: 837363
Smooth flowing Bic Gel Ink Pen.
Features contoured rubber grip for comfortable writing and combines...
Translucent barrel with matching grip and ink colour.
QuickFind: 372306 | Mfr part code: 829157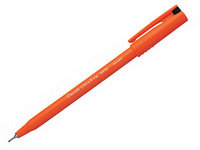 Pentel S570 Ultra Fine Pen.
Plastic tip is reinforced with a protective, strong metal collar to...
Perfect for all writing, ruling, stencilling and detailed work....
QuickFind: 380440 | Mfr part code: S570-A
Classic comfortable round barrel provides consistently smooth...
Durable long lasting tungsten ball for ultimate reliability.
Excellent quality and superb value for money.
QuickFind: 372215 | Mfr part code: 1199190125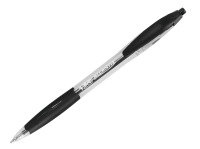 Super smooth ink for effortless writing.
Retractable ballpen with grip for a soft cushioned grip to ease writing...
Nickel Silver point ensures faultless distribution of ink.
QuickFind: 372218 | Mfr part code: 1199013671