Blank CDs, DVDs & Blu-Ray Disks
Blank CDs, DVDs, Blu-Ray Media
If you're looking to store, distribute, transport or backup digital files such as photos, documents, databases, movies and music, then you will need some new blank media. And here at Ebuyer.com, we can help.
Read more...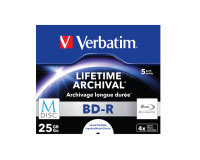 M-Disc BD-R
25GB
Inkjet Printable
4x
QuickFind: 755878 | Mfr part code: 43823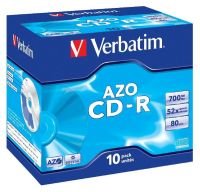 Write-once CDR
Native Capacity 700MB
52x Write Speed
Package Type Jewel Case
Superior Archival Life
QuickFind: 86964 | Mfr part code: 43327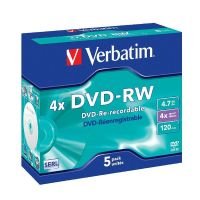 Rewritable DVDRW
4.7GB Native Capacity
4x Write Speed
Matt Silver Disc Surface
Package Type Jewel Case
QuickFind: 91644 | Mfr part code: 43285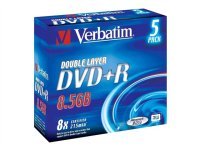 8x DVD+R Dual Layer 8.5GB AZO 5 Pack Slim Case
QuickFind: 117957 | Mfr part code: 43541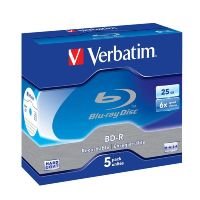 Hard Coat protective layer
Extremely long archival life
Excellent playback performance
BD-R is for use in BD drives and recorders
Laser Wavelength: 205nm
£ 6.50 inc. vat
£6.89
save £0.39
£5.41 ex. vat
£5.74
save £0.33
View Product
QuickFind: 231588 | Mfr part code: 43715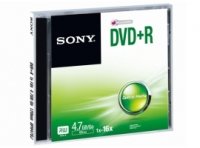 DVD+R
120 min recording time
Jewel case
4.7 GB
QuickFind: 569838 | Mfr part code: DPR47SJ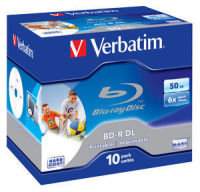 6x BD-R Dual Layer
50GB
10 Pack Jewel Case
QuickFind: 619615 | Mfr part code: 43736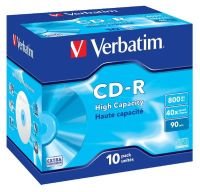 Able to record an extra 10 mins worth of music
Capacity: 800MB
Speed: 40x
Pack Style: 10 Pack Jewel Case
Disc Surface: Extra Protection
QuickFind: 86963 | Mfr part code: 43428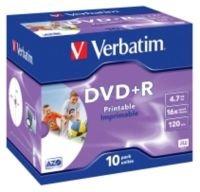 4.7GB Native Capacity
16x Write Speed
Jewel Case
Wide Photo Printable Disc Surface
48mm from inner hub Print area
QuickFind: 91626 | Mfr part code: 43508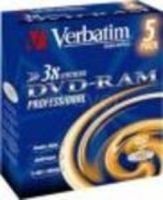 QuickFind: 91630 | Mfr part code: 43493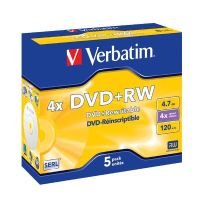 Can record 4.7GB of data in approx 15mins
Capacity: 120min
4x Write Speed
5 Pack Jewel Case
Disc Surface: Matt Silver
QuickFind: 91633 | Mfr part code: 43229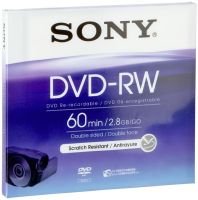 Capacity up to 2.8 GB.
120 minutes recording in Long Play mode
40 minutes recording in High-quality mode
Compact and easy to carry
Scratch Guard
QuickFind: 122523 | Mfr part code: DMW60AJ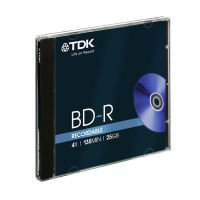 Single Disc
Single Layer
25GB Capacity
4x Write Speed
QuickFind: 177533 | Mfr part code: BD-R25JC4EB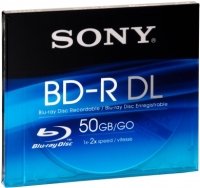 50GB capacity on dual layer
High data transfer rate up to 72Mbit/s (2x)
Jewel case package x1
Archival reliability
QuickFind: 430870 | Mfr part code: BNR50AV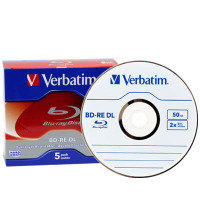 Re-Writable Blu-Ray Disc
2x Write Speed
Dual Layer
50GB Capacity on a single disc
5 Pack supplied in jewel cases
QuickFind: 489249 | Mfr part code: 43760
Return to top
Blank Media
We have a wide range of media ranging from blank CDs and DVDs to Blu-Ray discs. Whichever device or media you are using all the blank discs at Ebuyer offer reliable writing and playing and excellent playback compatibility.
In addition many of the blank DVDs and CDs provide generous rewrite cycles, high storage density and are recordable in multiple formats. For more information on using blank media for transferring data see this article How to copy a CD and DVD to your PC.
Buy In Bulk
Depending on what you want to use the blank discs for, we can provide them on spindles of up to 100 for personal or business users. Buying these blank discs in bulk makes them excellent value for money with a very low cost per unit.
Labelling Your Media
Some blank DVDs and CDs can be printed with inkjet printers. Alternatively some software allows users to laser-etch words or images directly onto the front of a blank CD or DVD. It's a low-cost and effective way to permanently label your blank discs or for businesses to add their branding to the media they distribute.
Buying From Ebuyer
You can find the blank media you require by using the filter feature on the left of the screen and searching by brand, pack size or speed. Order today for quick delivery in the UK.