Ebuyer Recommends
Intenso 1TB External Hard Drive
(1)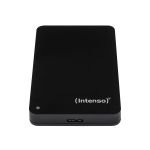 USB 3.0 backwards compatible with USB 2.0
1TB of storage
Black casing
USB cable included
Powered via USB
£ 47.75 inc. vat
£51.76
save £4.01
£39.79 ex. vat
£43.13
save £3.34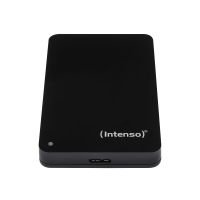 USB 3.0 backwards compatible with USB 2.0
1TB of storage
Black casing
USB cable included
Powered via USB
£ 47.75 inc. vat
£51.76
save £4.01
£39.79 ex. vat
£43.13
save £3.34
View Product
QuickFind: 412327 | Mfr part code: 6021560
Return to top
Intenso 1TB External Hard Drive from Ebuyer.com
Here on Ebuyer.com we have a range of Intenso 1TB external hard drives. The drives are ideal for storing media files including movies and music. They can also be used for backing up important files, and the operating system, on your PC.
One terabyte of storage
These 1TB external hard drives have plenty of space for storage. Hundreds of videos and thousands of other media files can be stored on these devices. And they can be taken anywhere.
Plug and play
With their USB interfaces these Intenso drives can be used with any compatible devices. There is no software to install and their plug and play functionality ensures they can be easily switched between computers.
This is ideal when you use separate machines at home and work or want to transfer your media onto a friends or family members machine.
Great deals on Ebuyer
You will find low prices on all the external hard drives here on Ebuyer.com. Look through the whole selection, order today and we will deliver your device straight to your door.