180GB SSD Drives
180GB SSD Drives from Ebuyer.com
Do your PC a favour and take some of the pressure off your hardworking hard drive by installing a new solid state drive. With 180GB storage capacity, these SSDs are the perfect place to store everything from your burgeoning media library to your operating system.
Read more...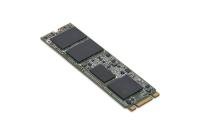 180GB Capacity
Form Factor M.2 2280
Interface SATA 6Gb/ s
Data Transfer Rate 600 MBps
5 years warranty
QuickFind: 743573 | Mfr part code: SSDSCKKW180H6X1
Return to top
Small Size, Huge Storage
The lack of moving parts in an SSD bestows on it a great many virtues. For a start, there's far less that can go wrong in terms of intricate inner workings becoming worn out and damaged. The fewer the moving parts, the less susceptible the drive is to shock and similar physical impact damage.
SSDs are also great on your budget. Less likely to break means less likely to replace. They also use less power on a daily basis and kick out less waste heat than their disk-based cousins.
At Ebuyer, we stock a wide range of 180GB SSD drives suitable for both business and personal use. Find your SSD drive using the filters on the left of the screen. Don't forget that with Ebuyer you always get fast delivery and low prices.