Ebuyer Recommends
16GB Kingston USB Flash Drive
(13)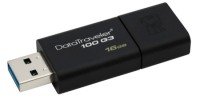 16GB Capacity
USB 3.0
5 Year Manufacturer Warranty
£ 4.96 inc. vat
£5.49
save £0.53
£ 4.13 ex. vat
£4.57
save £0.44
View Product
QuickFind: 497214 | Mfr part code: DT100G3/16GB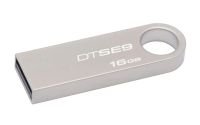 16 GB Capacity
USB 2.0
W: 3.9cm, D: 1.2cm, H: 1.0cm
5 years warranty
£ 5.39 inc. vat
£5.81
save £0.42
£ 4.49 ex. vat
£4.84
save £0.35
View Product
QuickFind: 341029 | Mfr part code: DTSE9H/16GB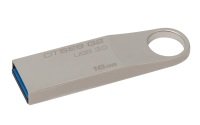 16 GB Capacity
USB 3.0
Read: 100 MB/s
W: 4.5cm, D: 1.2cm, H: 0.7cm
5 years warranty
QuickFind: 699690 | Mfr part code: DTSE9G2/16GB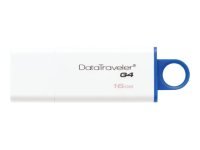 G4 Flash Drive
USB 3.0
16GB
Blue
£ 4.98 inc. vat
£5.36
save £0.38
£ 4.15 ex. vat
£4.46
save £0.31
View Product
QuickFind: 583073 | Mfr part code: DTIG4/16GB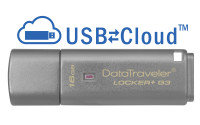 Hardware Encryption
Superior password protection
Works interchangeably between Mac OS X and Windows systems
QuickFind: 616166 | Mfr part code: DTLPG3/16GB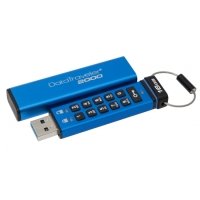 16GB Capacity
USB 3.0 compliant and 2.0 compatible
Speed 120MB/s read, 20MB/s write
Free Delivery
QuickFind: 738364 | Mfr part code: DT2000/16GB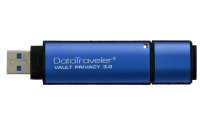 Encrypted Flash Drive
USB 3.0
16GB
165MB/s read, 22MB/s write
£ 42.99 inc. vat
£47.49
save £4.50
£ 35.82 ex. vat
£39.57
save £3.75
View Product
QuickFind: 582749 | Mfr part code: DTVP30/16GB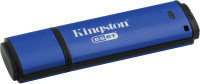 256-bit AES hardware-based encryption
Complex password protection
Anti-virus software protection
USB 3.0
Free Delivery
QuickFind: 582750 | Mfr part code: DTVP30AV/16GB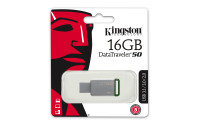 16 GB Capacity
USB 3.0
Read: 30 MB/s | Write: 5 MB/s
W: 4.5cm, D: 2cm, H: 0.5cm
5 years warranty
£ 5.49 inc. vat
£5.84
save £0.35
£ 4.57 ex. vat
£4.86
save £0.29
View Product
QuickFind: 755676 | Mfr part code: DT50/16GB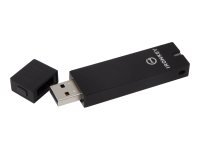 Free Delivery
QuickFind: 760756 | Mfr part code: IKD250E/16GB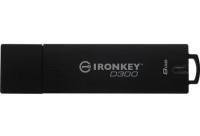 USB Flash Drive
16GB
Encrypted
Free Delivery
QuickFind: 761030 | Mfr part code: IKD300/16GB
QuickFind: 846096 | Mfr part code: DT106/16GB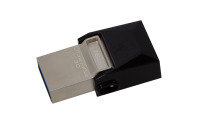 2-in-1 microUSB and USB 2.0 connectors
easy transfer of files between smartphones, tablets and computers...
Plug-and-Play simply connect as you would a standard USB Flash...
£ 11.48 inc. vat
£12.99
save £1.51
£ 9.56 ex. vat
£10.82
save £1.26
View Product
QuickFind: 656988 | Mfr part code: DTDUO3/16GB
Return to top
16GB Kingston USB Flash Drives from Ebuyer.com
For reliable and high performance flash drives you need look no further than Kingston Technology.
Kingston are renowned for their computer storage solutions and these portable devices are ideal for both professional and home users.
The drives featured on this page all have a storage capacity of 16GB though they are different in design with some featuring caps whilst others have a retractable or swivel design. There are also options between standard USB 2.0 and the faster USB 3.0 as well as both encrypted and unencrypted devices.
Top performance flash drives
You are guaranteed great performance from any Kingston storage device but their USB 3.0 drives are superfast and their data transfer rates are amazing compared to standard USB 2.0. Transfer all your media files and documents quickly and easily with these drives from Kingston.
And if the security of your data is important to you than choose a device that can be encrypted. Kingston produce flash drives that feature 256-bit encryption to provide secure storage for essential or treasured files. Very easy to set up and use these devices provide instant military grade security.
Huge choice from Ebuyer.com
Whichever type of Kingston flash drive you are looking for you will find it here at Ebuyer and the lowest possible price. Why not order your new device today?