Osmo Games & Kits
(1)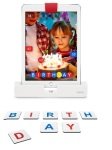 1 player or 2 player modes
Download or create content
Challenges for kids to adults
Also include Masterpiece and Newton game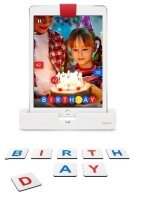 1 player or 2 player modes
Download or create content
Challenges for kids to adults
Also include Masterpiece and Newton game
QuickFind: 773210 | Mfr part code: OSMTPOSMO11
Return to top
Learning should be both intuitive and fun, which is why with Osmos range of game systems, children can interact with an iPad to explore maths and literacy. The award-winning brand mixes tangible objects and artificial intelligence to support learning at home or in the classroom. The range supports learning about numbers, words, art, science, coding and languages - as well as supporting brain fitness too.
All Osmo products are offered with Ebuyers price match promise to ensure you get the best price online - take a look at the range below.
Once sat in the Osmo base, your iPad is ready to make learning about a variety of subjects a hands-on experience. Adopted by over 22,000 schools across the globe the Osmo range is perfect for class or at home.
Osmo is an interactive learning platform that supports one or two player experiences for children and adults. The brand pride themselves on being an easy introduction to subjects that merges the real and digital world its great fun to play too!
At Ebuyer we would be happy to advise you on our full range of educational products, just call 0871 528 51 26 if you have any questions. For orders over £49.99 delivery is free, and our price match guarantee means you will always get the best price online.
Look through our great selection of Osmo games and accessories today.