School & Business Projectors
Projectors are extremely useful devices for business and educational purposes. They ensure you get your message across clearly and effectively, plus they can make presentations more interesting and interactive.
Read more...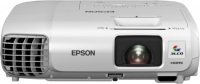 2700 Lumens White Light Output
10,000:1 Contrast Ratio
Horizontal & Vertical Keystone Correction
Multi-PC Projection Software
Enhanced Connectivity and Networking
£ 339.96 inc. vat
£359.99
save £20.03
£283.30 ex. vat
£299.99
save £16.69
View Product
QuickFind: 713029 | Mfr part code: V11H692041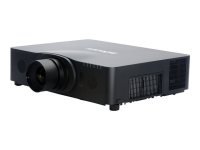 Brightness: 5000 lumens
Contrast Ratio: 3000:1
Throw Ratio: 1.5 - 3.0:1
Resolution WUXGA: 1920 x 1200
QuickFind: 395359 | Mfr part code: IN5145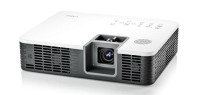 WXGA (1280x800 pixels)
Contrast Ratio 1400 : 1
WXGA 0.65" DLP Chip Technology
1.62 - 1.95 Throw Ratio
Up to 3500 ANSI Lumens
QuickFind: 425936 | Mfr part code: XJ-H2650-UJ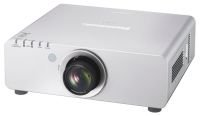 Brightness: 6,000 ANSI lumens
Contrast Ratio: 2000:1
Ratio: 1.80:1 to 2.40:1
Projection Distance: 1.8 to 29.2 m
Lamp Life: 2,500 hours
QuickFind: 455450 | Mfr part code: PT-DW640ES*J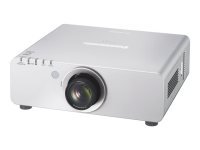 Brightness (Normal): 7000 ANSI Lumens
Native resolutio: 1280 × 800 pixels
Contrast ratio (typical): 2500:1
QuickFind: 455460 | Mfr part code: PT-DW740ES*J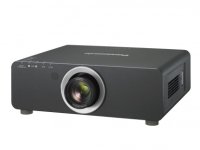 Brightness: 7000 lumens
Contrast Ratio: 2500:1
Image Size: 127 cm - 1524 cm
Throw Ratio: 1.7 - 2.4:1
Resolution WUXGA: 1920 x 1200
QuickFind: 482539 | Mfr part code: PT-DZ770ES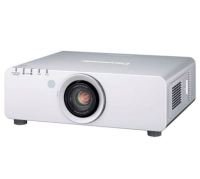 Brightness: 6500 lumens
Resolution XGA/WUXGA: 1920 x 1200
Contrast ratio: 2000:1
QuickFind: 483440 | Mfr part code: PT-DZ680ES*J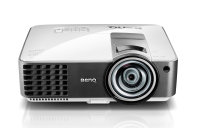 Projector native resolution: XGA (1024x768)
Native aspect ratio: 4:3
Contrast ratio (typical): 13000:1
Projector brightness: 3000 ANSI lumens
QuickFind: 580753 | Mfr part code: 9H.J7477.15E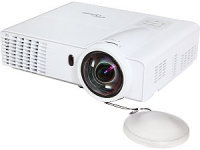 Sharp, crystal clear images - 20,000:1 Contrast Ratio
Full 3D
QuickFind: 580886 | Mfr part code: GT760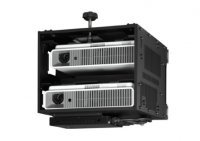 6000 Lumens
Approx 1,280 x 800 WXGA
Laser and LED hybrid
20,000 Hours Life Time
1,5: 1 Optical Zoom Ration
QuickFind: 580889 | Mfr part code: XJ-SK600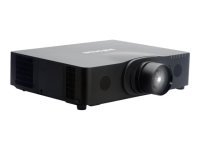 5500 lumens for sharp, seamless images in big rooms and high ambient...
Native WXGA widescreen resolution
Four optional lenses to fine-tune projection
Comprehensive connectivity and control
QuickFind: 582046 | Mfr part code: IN5144A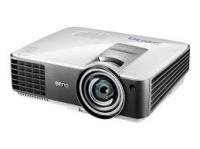 World-Leading SmartEco Technology
Blu-ray Full HD 3D Supported
0.61 Short Throw Lens
0.5W in Standby Mode
LAN Control with Crestron and PJ-Link
QuickFind: 616450 | Mfr part code: 9H.J9277.16E+MOUNT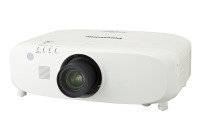 6500 Lumens
WUXGA
3LCD
10.6kg
QuickFind: 631263 | Mfr part code: PT-EZ770ZEJ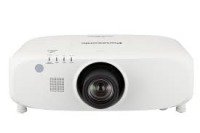 7.000 lm of brightness in a compact body
WXGA (1.280 x 800)
High contrast ratio of 5.000:1
QuickFind: 631266 | Mfr part code: PT-EW730ZEJ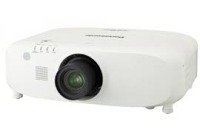 Brightness (Normal): 7500 ANSI Lumens
Colour: White
Native resolution: XGA (1024 x 768)
Aspect ratio: 16:10
Technology: 3LCD Technology
QuickFind: 631273 | Mfr part code: PT-EX800ZEJ
Return to top
The Right Choice For Your Business
Of course, it's important to get the right projector for your working environment. Fortunately, there are many different options to choose from. Here at Ebuyer, we offer projectors from top brands like Acer, Epson, Hitachi, Casio and Sony. What's more, our high-quality product range features some of the lowest prices available, so you can rest assured you're getting a great deal on business and educational projectors.
The Best Spec For You
When choosing a projector, there are a number of things you should think about to ensure you get the perfect projector to suit your requirements. For example, things like image brightness, contrast ratio, resolution and colour support will all impact the overall image quality. There again, selecting a device with a zoom lens will give you greater flexibility over the size of the projected image, as well as the distance between the projector and the screen.
Finally, be sure to find out about the accessories and special features of each education or business projector to ensure you get the best item for your situation. For example, a remote control can be very useful and some devices offer Bluetooth connectivity. You may also want to think about security features like locks and the ability to set up PIN protection.