Set Top Boxes
Freeview boxes offer you up to 50 extra channels at a great value - all you pay for is the one-of cost of the box. Using a terrestrial receiver, your Freeview box can bring you television from around the world, including American channels such as the Food Network and a number of radio stations. Many boxes also give you access to a digital TV guide, allowing you to see what's on and plan your viewing, as well as adding favourite channels and check synopses, making sure you never miss your favourite shows.
Read more...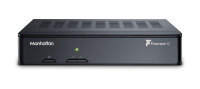 Apps inc. YouTube, BBC iPlayer, BBC Sport
Optical SPDIF for Digital Audio
HDMI
USB
Ethernet
QuickFind: 655037 | Mfr part code: HD-T2
Return to top
Having a digital Freeview box not only gives you a large collection of extra channels at an amazingly cheap price, but allows you to create a fully-formed media centre around your television. A Freeview box with USB capabilities can also be used for viewing photos through your television - ideal for looking at snaps with the family - and for playing music, turning your MP3 player into a living room or bedroom stereo in seconds.
Ordering your Freeview box online means you can check customer reviews before you buy, allowing you full control over your choice and ensuring you get the system that's right for you. Main considerations are the number of channels your box can program in at one time - our Thomson Freeview box can hold up to 50 television channels and 24 digital radio channels - and whether Freeview can be picked up in your area. Installation is quick and easy, especially with self-programming systems, so you can start watching your new channels straight away!