£59.99 inc. vat
£79.98
save £19.99
£49.99 ex. vat
£66.65
save £16.66
Freetime R8803 Robot Vacuum
Ideal for hard floor cleaning
Low profile to clean under furniture
Run time: 50 minutes
Charge time: 4 hours
QuickFind: 623252
Manufacturer ID: R8803
Freetime R8803 Robot Vacuum Product Description
Freetime R8803 Freetime Robot Vacuum Red
Ever fancied going out and coming back to clean floors! Well this can be a reality, the R8803 FreeTime Vacuum Cleaner is the ideal gadget for you. Leaving you more time to do the things you enjoy!


The Robotic dust-buster does not require asking twice, encouragement or persuasion of any kind to get on with the job of cleaning the floors. It is programmable so you can be getting on with other jobs.

Specifications:
14.4V / 7.5AW
280ml Capacity
Run time: 50 minutes
Charge time: 4 hours
Ideal for hard floor cleaning
Easy to use due to automated cleaning pattern
Edge cleaning brushes help clean the whole room
Step avoidance sensors protect the robot against falling off stairs
Low profile design allows the machine to clean under furniture
Blockage indicator for easy maintenance
Weight: 1.5kg
Dimensions:
Product item dimensions (cm) L:7.50 W:25.00 H:30.00
Packed box dimensions (cm) L:10.50 W:31.00 H:34.50
Packed net weight (kg)  1.61
Freetime R8803 Robot Vacuum Product Reviews
Customer lists featuring this product
Freetime R8803 Robot Vacuum Product Discussion
Our comments box is a great way for you to view other people's feedback about products on Ebuyer.com, and add your own.
This tool is open to everyone.
You are responsible for the contents of your comments and any consequences that may arise as a result of them.
Comments that contain any of the following will be deleted: terms considered explicit and inappropriate; defamatory, obscene, unlawful, harmful, or offensive.
Recently Viewed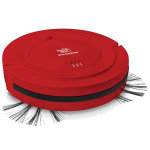 £59.99 inc. vat
£79.98
save £19.99
£49.99 ex. vat
£66.65
save £16.66
View Product