USB Cables, Hubs, Extensions & Accessories
USB Cables & Accessories from Ebuyer.com
USB (Universal Serial Bus) is without doubt the most common connection used by computers, their peripherals, and other devices. USB can be used to connect printers, scanners, and hard drives to a PC and just about every device now has a USB connection. Here at Ebuyer we stock a full range of cables, hubs, and accessories such as chargers and adapters. Check out the full range below, whatever you need you are sure to find it here. Alternatively, use the filters on the left of the screen to narrow your search.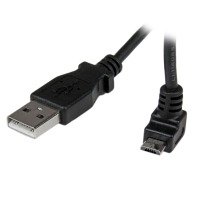 1x USB 'A' male connector
1x Up Angle USB Micro-B male connector
Supports high-speed data transfer rates of up to 480 Mbps
QuickFind: 546343 | Mfr part code: USBAUB50CMU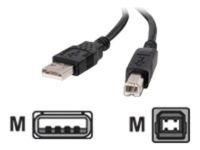 Connect your USB device to the USB port on your USB hub, desktop PC or Mac...
QuickFind: 170973 | Mfr part code: 81567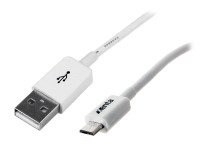 Cable Length 4m
Micro USB Charging Compatibility
Ideal For Use With Ps4 Or Xbox One
Data Transfer Compatible
Quality Connectors
£1.19 inc. vat
£1.37
save £0.18
£0.99 ex. vat
£1.14
save £0.15
View Product
QuickFind: 659981 | Mfr part code: EBYMUSB4MW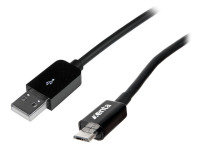 Cable Length 3m
Micro USB Charging Compatibility
Ideal For Use With Ps4 Or Xbox One
Data Transfer Compatible
Quality Connectors
QuickFind: 659979 | Mfr part code: EBYMUSB3MB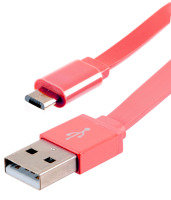 Hi-Speed USB Device connector cable
Fast data transfer speeds
Length 1.5 Metres
Colour: Red
£0.98 inc. vat
£1.25
save £0.27
£0.81 ex. vat
£1.04
save £0.23
View Product
QuickFind: 620959 | Mfr part code: MUSB1.5R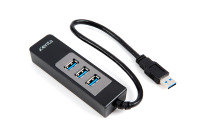 USB 3.0 Super speed and 10/100/1000 Gigabit Ethernet LAN Network...
Supports IPv4/Pv6 network and full duplex
Windows XP / Vista / 7 / 8 / 10 (32/64 bit) & Mac OS
£9.98 inc. vat
£18.99
save £9.01
£8.31 ex. vat
£15.82
save £7.51
View Product
QuickFind: 748993 | Mfr part code: Y30EBU45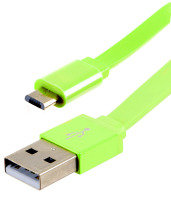 Hi-Speed USB Device connector cable
Fast data transfer speeds
Length 1.5 Metres
Colour: Green
£0.98 inc. vat
£2.98
save £2.00
£0.81 ex. vat
£2.48
save £1.67
View Product
QuickFind: 620957 | Mfr part code: MUSB1.5G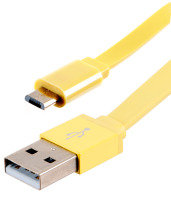 Hi-Speed USB Device connector cable
Fast data transfer speeds
Length 1.5 Metres
Colour: Yellow
£0.98 inc. vat
£2.48
save £1.50
£0.81 ex. vat
£2.06
save £1.25
View Product
QuickFind: 620956 | Mfr part code: MUSB1.5Y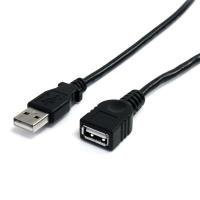 Designed and constructed to USB 2.0 specifications
Supports data transfer rates up to 480 Mbps
Connector A 1 - USB A (4 pin) Male
Connector B 1 - USB A (4 pin) Female
QuickFind: 234049 | Mfr part code: USBEXTAA6BK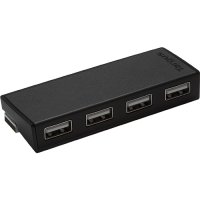 £7.82 inc. vat
£9.69
save £1.87
£6.51 ex. vat
£8.07
save £1.56
View Product
QuickFind: 244416 | Mfr part code: ACH114EU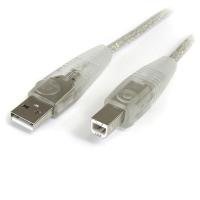 Transparent colour blends into any environment
High-speed data transfer up to 480 Mbits/sec
Hot Pluggable; allows swapping of live devices
QuickFind: 123992 | Mfr part code: USB2HAB6T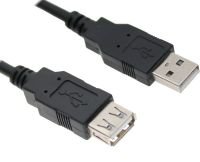 Ideal for extending range of USB cables
2 Metre length in black
Lifetime Guarantee
USB 2.0 specification
£1.97 inc. vat
£2.48
save £0.51
£1.64 ex. vat
£2.06
save £0.42
View Product
QuickFind: 130588 | Mfr part code: PLEX-076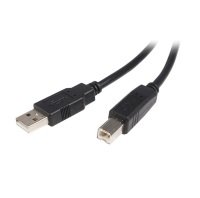 Durable design, with high quality USB connectors
High quality USB 'A' and USB 'B' connectors
Supports USB 2.0 data transfer rates up to 480 Mbps
Use with any USB 2.0 rated device or add-on card
QuickFind: 338294 | Mfr part code: USB2HAB5M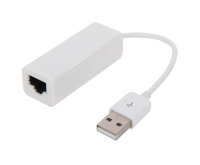 USB 2.0 to Gigabit RJ45 Adapter
Plug an Ethernet cable into your laptop via a USB port
ideal for laptops with no Ethernet port
QuickFind: 727661 | Mfr part code: USBRJ45ADPT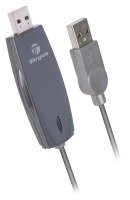 Easy to use PC-to-PC data transfer cable
Software included inside USB cable
USB2.0
Mobile Data Transfer & Synchronization Cable
Cable length: 1.44 m
QuickFind: 137464 | Mfr part code: ACC96EU