Speakers
Speakers From Ebuyer.com
A pair of speakers can be a great investment. Of course they will make your music so much better but they also come into their own by making movies and games an immersive experience, especially if you have a surround sound speaker system.
Read more...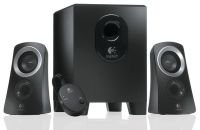 Convenient
control pod
Room-filling sound
Compact subwoofer
Easy setup
QuickFind: 222457 | Mfr part code: 980-000447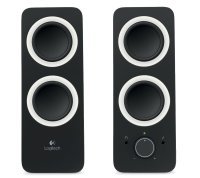 Includes two times 2.5-inch (6.3 cm) drivers per satellite
Features 3.5 mm audio input and 3.5 mm auxiliary line
Integrated controls
QuickFind: 658983 | Mfr part code: 980-000812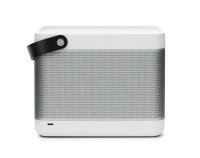 50 to 20,000Hz
USB, mini-jack, mains, Ethernet
Mini-jack/USB 8-hour rechargeable battery
Airplay Enabled
Refurbished Item
£ 199.98 inc. vat
£330.98
save £131.00
£166.65 ex. vat
£275.81
save £109.16
View Product
QuickFind: 789033 | Mfr part code: BAO1290925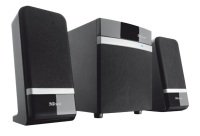 For quality sound with deep bass
USB powered - no wall power needed
Volume control and power switch on the back of the subwoofer
QuickFind: 656374 | Mfr part code: 18925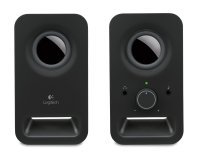 Enjoy rich sound
Control at your fingertips
Listen in privacy
Dimensions (HxWxD) 151.5X 84.5X76 mm
QuickFind: 657513 | Mfr part code: 980-000816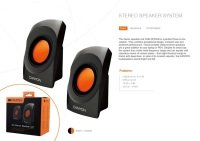 USB Powered
Orange & Black Design
Small & Compact
QuickFind: 799206 | Mfr part code: CNR-SP20JB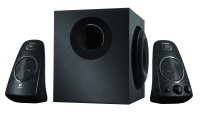 THX Certified sound
RCA / 3.5 mm inputs, and headphone jack
Adjustable volume and bass
Total 200W RMS power
QuickFind: 236461 | Mfr part code: 980-000404
Delivers a loud, deep and clear sound with 80W peak power and 40W RMS...
One 24W subwoofer and two satellite speakers at 8W each
QuickFind: 750644 | Mfr part code: 980-001201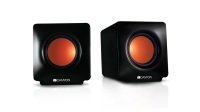 System configuration: 2.0
Output power: 2*3W
Impedance: 6Ω
Frequency response: 20Hz-20kHz Power: USB/DC5V
Signal input: line 3.5 mini-jack
QuickFind: 799211 | Mfr part code: CNE-CSP201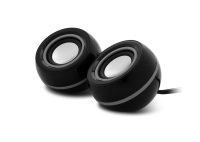 2.0 speakers set; ideal for your PC, notebook or netbook
Great sound quality for your music or movies
Easy access to volume button
3.5 mm audio connector for an easy-plug-and play
QuickFind: 799209 | Mfr part code: CNR-FSP01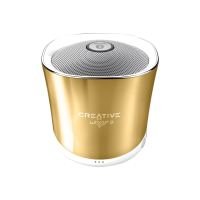 QuickFind: 800159 | Mfr part code: 51MF8230AA003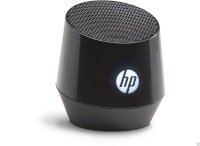 Plug, play and enjoy
Small portable speaker
Connect to any device with a 3.5mm audio output
Lithium ion battery that lasts up to 12 hours
2 year warranty
£ 5.98 inc. vat
£9.98
save £4.00
£4.98 ex. vat
£8.31
save £3.33
View Product
QuickFind: 802726 | Mfr part code: W-H5M95AA#A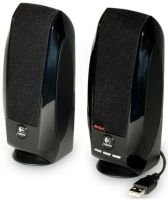 USB Powered
1.2W RMS total power
Small and portable
QuickFind: 139131 | Mfr part code: 980-000029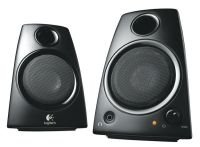 Plug in your headphones and listen to your music, movies and games where...
QuickFind: 222458 | Mfr part code: 980-000419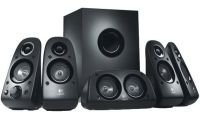 Deep bass brings your music, movies, games to life
Dedicated bass controller
Multiple inputs for PC, game console, DVD player
QuickFind: 242265 | Mfr part code: 980-000432
Return to top
Speaker Systems
With the advancements in technology it is no longer necessary to break the bank to install a high quality speaker system. And Ebuyer have a full range of speaker systems from single portable speakers to stereo (two speakers) to 2:1 (two speakers and a sub-woofer) and 5:1 (five speakers and a sub-woofer) full surround sound systems.
Huge Choice
Here at Ebuyer we have literally hundreds of speakers and systems to choose from. So whether you are looking for a portable unit for your tablet or full home cinema system we have the speakers you need. Check out the full range from all the different manufacturers by searching through the brands on the left of the screen. Here you will find speakers from big names such as Logitech, Trust and Wharfedale.
Setting Up Your Speakers
Once you have found your speakers and we have delivered them to your door you will need to set up your new system. And the first thing you have to take into consideration is where you are going to put your speakers to make sure that you get the best possible sound.
Generally this means putting the speakers at equal distances away from the listener. The surround speakers should be positioned behind the listener, while the left and right speakers should be located on either side of the television screen or computer monitor. The subwoofer can be put just about anywhere, although it's not recommended that they be placed in corners.
Alternatively, if you want to enjoy great sound on the go, without needing a pair of headphones, then portable laptop computer speakers could be ideal. These generally connect to your computer with a USB cable, so they don't need an extra power supply.
And, of course, there is also the option of Bluetooth and wireless speakers which means there are no cables to run around the walls. These speakers are so versatile as they can be positioned anywhere within range.
Next Day Delivery
Whether you want the speakers to improve the way you enjoy music, games or movies our range of products is sure to provide big sound at low prices. And if you don't want to wait for your new sound system, order before 11pm to enjoy next-day delivery (terms and conditions apply).