MP3 Players
Price
Colour
MP3 Players from Ebuyer.com
An MP3 player is a portable music device that enables the listener to hear high quality sound files created and stored in the MP3 format. Most MP3 players can hold a huge number of songs with whole musical collections being able to be accessed on one device. Some devices are much more than just music players with some, such as the iPod Touch, with the user being able to stream videos, surf the internet and use any of the thousands of applications available to smartphone users.
Apple iPod Touch
The Apple iPod Touch is quite rightly regarded as the ultimate personal media player. After all it blends the amazing design that you expect from all Apple products with a great screen, amazing camera and, of course, unbeatable audio.
Read

more

less

...
Super-thin and incredibly light
The latest version of the iPod Touch stocked by Ebuyer.com is the thinnest and lightest ever made. Made from aluminium in a variety of funky colours the iPod Touch just looks amazing but it is also durable enough to withstand knocks and shocks.
4 inch display screen
The 4 inch screen on the iPod Touch delivers clear and vivid images. Ideal for showing your playlist or watching movies, videos or websites.
Built-in camera
The Touch is so much more than just a media player and the built-in camera takes great photos. In fact you can forget about having to carry around a compact camera as the 5mp iPod Touch iSight camera is all you will need. Point and shoot and take panoramic shots and even edit them with the Photos app.
Unbeatable audio
A personal media player is all about the sound and the iPod Touch delivers great audio. Store your complete collection of tunes on your device and listen with the comfortable and high-quality Apple EarPods that come with every iPod.
More features
As well as listening to music on your iPod Touch you can watch movies, play games and download apps. It's a complete personal entertainment centre that you can easily fit in your pocket. Check out the full range of Apple iPod Touch media players that are available on Ebuyer.com.
More Apple iPods
Apple produce other versions of the iPod and we have them all here at Ebuyer. Choose from the incredible value and convenience of the Shuffle, the more feature rich Nano or the original iPod Classic. But whichever Apple iPod you pick you are assured of brilliant music and unbeatable design.
MP 3 Players
If you are looking for a more entry level MP3 player we have a range for you to choose from including models from Foehn & Hirsch and Xenta.
You won't find lower prices anywhere on line so why not order your Apple iPod or MP3 player today and we will deliver it straight to your door.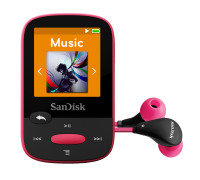 Clip Sport MP3 Player
8GB
Pink
QuickFind: 709676 | Mfr part code: SDMX24-008G-G46P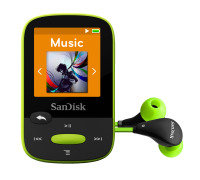 Clip Sport MP3 Player
8GB
Lime
QuickFind: 709678 | Mfr part code: SDMX24-008G-G46L
Customers Who Viewed These Products Also Viewed