2.1 Speaker Systems
Subcategory
Brand
Price
Also known as three-piece audio, 2.1 speaker systems provide great stereo sound that is enhanced with a subwoofer for lower frequencies.
Most 2.1 speaker systems are designed for use with a desktop computer and they may attach through the USB port or the headphone input. They are manufactured by some of the UK's best known brands, such as Xenta, Logitech, Sony and Creative Labs and are ideal if you want to enjoy great sound quality from a video game or streaming media.
Read

more

less

...
When shopping for 2.1 speaker systems, be sure to consider the power of the devices, as this will indicate the sound quality and maximum volume level. You may also want to think about whether the devices come with accessories like remote controls.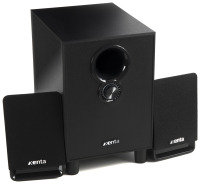 2:1 surround sound
5W sub-woofer
2 x 2.5W satellite speakers
Separate volume and bass controls
£14.99 inc. vat
£29.99
save £15.00
£12.49 ex. vat
£24.99
save £12.50
View product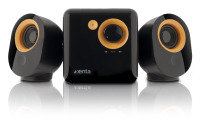 Xenta 303 2.1 channel Subwoofer speaker System
Compact speaker set (10Watts power)
3.5mm stereo cable for easy connectivity
Plug and Play instantly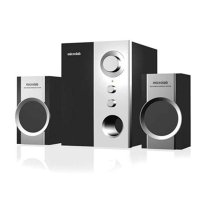 Quality 2.1 subwoofer system with powerful bass effect
Ideal for digital movies, TV, CD/DVD and Mp3/Mp4 playbacks
Front master volume controls for easy adjustment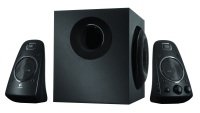 THX Certified sound
RCA / 3.5 mm inputs, and headphone jack
Adjustable volume and bass
Total 200W RMS power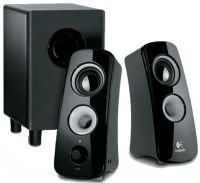 360-degree sound
Ported, down-firing subwoofer
1 dual RCA jack and one 3.5 mm jack
Integrated headphone jack
30 watts (RMS)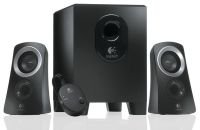 Convenient
control pod
Room-filling sound
Compact subwoofer
Easy setup
£37.32 inc. vat
£41.50
save £4.18
£31.10 ex. vat
£34.58
save £3.48
View product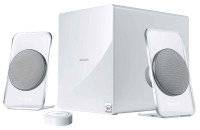 Powerful integrated 8-inch bass subwoofer with built-in amplifier....
2 stereo enclosure-less satellite SQ for no distortions or...
Digital signal processor for clear HD audio sound.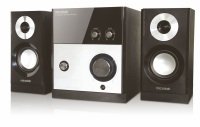 Front volume, treble and bass controls
Ideal for movies, TV, and Mp4 playbacks
Quality stylish 2.1 subwoofer system with powerful bass effect...
5.5 Watts RMS per channel (2 channels)
16 Watts RMS subwoofer
Frequency response: 40Hz ~ 20kHz
Product Weight: Speaker( 325g), Subwoofer(2.6kg)
Dimensions (W x H x D)mm :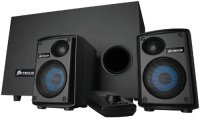 232W RMS Power
8 Inch subwoofer with durable rubber surround
Bi-amplified satellites with 3" drivers
Programmable digital signal processor
Wired desktop controller
£201.53 inc. vat
£215.00
save £13.47
£167.94 ex. vat
£179.16
save £11.22
View product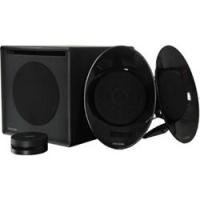 • Advanced HC2D technology for high fidelity sound production in...
• Satellites with box less design; improve speaker efficiency and...
• Powerful subwoofer with deep bass and vocals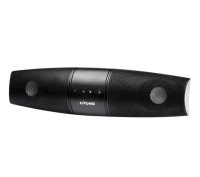 Power Supply: 4x AAA battery or 5V USB
Total RMS Power: 6W (2 x 3W)
Drivers: 2 x 2" Full range, 3 ohm
Audio Input: 3.5mm stereo jack, USB Audio
Dimensions: 294 x 73 x 50mm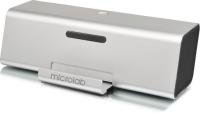 Quality stereo speaker system with built-in amplifier
Ideal for movies, gaming, music and pc applications
Clear and uncoloured sound