Powerline Adapters & Kits
Powerline Adapters
With powerline adapters you can literally convert your properties electrical cabling into your own super-fast network. All you need is your current router, at least two powerline adapters and some Ethernet cable.
Read more...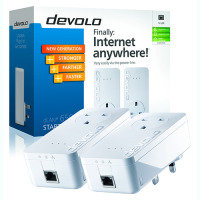 2x dLAN 650+ adapters
Single LAN
Powerline Network Adapter
Fastest connection at up to 600 Mbps
Integrated Gigabit LAN connection
£ 29.99 inc. vat
£31.97
save £1.98
£24.99 ex. vat
£26.64
save £1.65
View Product
QuickFind: 614439 | Mfr part code: 9225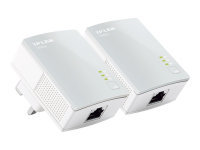 Starter Kit
Bridge
HomePlug AV (HPAV)
Wall-pluggable (pack of 2)
QuickFind: 780283 | Mfr part code: TL-PA4010KIT V1.20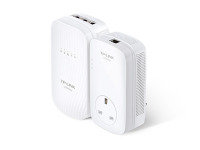 Interface : 3 Gigabit Ethernet Port
LED Indicator : PWR, PLC, ETH, 2.4G Wi-Fi, 5G Wi-Fi
Range : 300 Meters over electrical circuit
QuickFind: 754512 | Mfr part code: TL-WPA8730KIT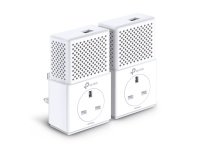 Gigabit Passthrough Powerline Starter Kit
Bridge
GigE, HomePlug AV (HPAV), HomePlug AV (HPAV) 2.0
Wall-pluggable
QuickFind: 782411 | Mfr part code: TL-PA7010P KIT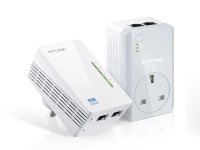 One Touch Super Range Extension
Up to 600Mbps - Ideal for HD Video Streaming
Extend Wi-Fi Coverage to Every Room
Extra Power Socket for Additional Devices
QuickFind: 753066 | Mfr part code: TL-WPA4226KIT V1.20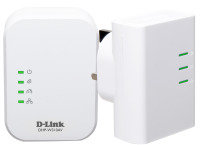 Converts any power socket into a network connection point
Up to 500 Mbps speeds
Up to 300 Mbps wireless speeds
Improved resistance to electrical interference
QuickFind: 483192 | Mfr part code: DHP-W311AV/B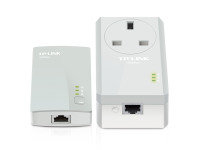 Plug and play design
Power-Saving Mode
Integrated power socket
Data transmission rates up to 500Mbps
No Configuration Required
QuickFind: 727312 | Mfr part code: TL-PA4016P KIT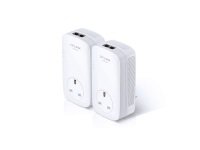 HomePlug AV2 standard compliant
high-speed data transfer rates of up to 1000Mbps1, supports all your...
2 gigabit ports create secure wired networks for desktops or IPTVs...
£ 56.24 inc. vat
£60.99
save £4.75
£46.86 ex. vat
£50.82
save £3.96
View Product
QuickFind: 721614 | Mfr part code: TL-PA7020P KIT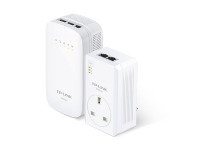 Device Type: Bridge
Enclosure Type: Wall-pluggable
Frequency Band: 2.4 GHz, 5 GHz
Data Transfer Rate: 500 Mbps
£ 54.99 inc. vat
£61.98
save £6.99
£45.82 ex. vat
£51.65
save £5.83
View Product
QuickFind: 742807 | Mfr part code: TL-WPA4530KIT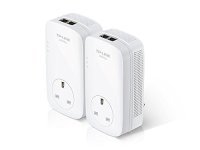 Powerline Adapter
Starter Kit
Wall Pluggable
QuickFind: 748434 | Mfr part code: TL-PA9020P KIT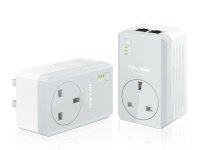 V1.20
Starter Kit
Bridge
HomePlug AV (HPAV)
Wall-pluggable (pack of 2)
QuickFind: 775057 | Mfr part code: TL-PA4020P KIT V1.20
Perfect for Bandwidth Demanding Activities
Gigabit Port for Ultra-fast Datasheet Transfer
Plug and Play, No Configuration Required
QuickFind: 795521 | Mfr part code: TL-PA8010P KIT V2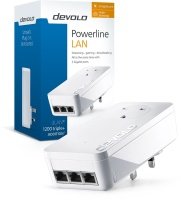 The latest dLAN 1200 triple+ adapter for faster Internet
Three Gigabit ports provide more flexibility
Greater range for better performance
QuickFind: 804691 | Mfr part code: 9898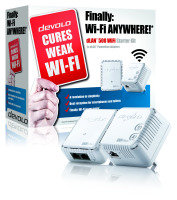 Finally Wi-Fi in any room.
Compact and unobtrusive design.
Integrated LAN port.
Includes 1 dLAN 500 duo and 1 x dLAN 500 WiFi Adapters
QuickFind: 501366 | Mfr part code: 9085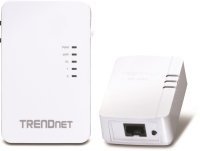 Create a wireless network in an area with little to no wireless coverage...
Combination Powerline and Wireless N
Connect a smart TV, gaming console, or media player to the two Ethernet...
QuickFind: 616226 | Mfr part code: TPL-410APK
Return to top
Why use powerline?
Powerline technology has been developed to counter the problems experienced with Wi-Fi. With Wi-Fi the signal strength will fall the further you are from the router, walls pose problems and different levels in the house will receive different strength signals.
This will pose problems when surfing the web or downloading movies to your laptop or TV if you are on a different level to the router. But, with powerline, the signal will remain constant so improving coverage no matter where you are in the property.
How it works
Powerline basically uses the electrical wiring in your house to transport the Wi-Fi signal. The first powerline adapter is plugged into a wall socket near to your router and is then connected to the router by an Ethernet cable.
The second (and more if required) adapter is then plugged into a socket in another room. This second adapter can then be connected via an Ethernet cable to your TV or other device. This can be repeated in as many rooms as you wish and you will have the same high strength signal to all your devices.
Plug and Play
The great thing about powerline technology is that it is so simple to use. It really is just plug and play. Simply plug the adapter in the socket and push in the Ethernet cable. Simples.
Leading brands
We have powerline adapters from all the leading manufacturers so you can be assured of high quality products at the lowest possible prices. Check out the products available from TP-Link, Huawel and Netgear.
Order your powerline adapters today before 11pm and we can deliver tomorrow (terms and conditions apply).