Network Cards, Powerline Adapters & IP Phones
Great selection of network devices
There are many reasons to set up a computer network. Whether for the home or office a network will increase productivity and convenience as the systems can be used for simplified file sharing and protecting important data. A network can also be used to connect an amazing home entertainment centre or even CCTV security system.
Read more...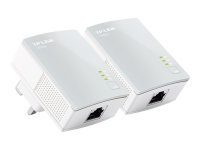 Starter Kit
Bridge
HomePlug AV (HPAV)
Wall-pluggable (pack of 2)
£24.94 inc. vat
£27.48
save £2.54
£20.78 ex. vat
£22.90
save £2.12
View Product
QuickFind: 780283 | Mfr part code: TL-PA4010KIT V1.20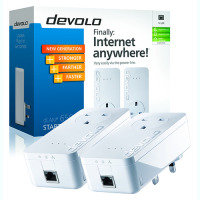 2x dLAN 650+ adapters
Single LAN
Powerline Network Adapter
Fastest connection at up to 600 Mbps
Integrated Gigabit LAN connection
£29.99 inc. vat
£32.98
save £2.99
£24.99 ex. vat
£27.48
save £2.49
View Product
QuickFind: 614439 | Mfr part code: 9225
Powerline Adapter
Passthrough
Bridge
Wall-pluggable
QuickFind: 751230 | Mfr part code: TL-PA4010P KIT V2.20
QuickFind: 752688 | Mfr part code: DM200-100EUS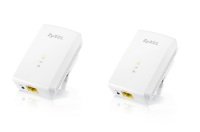 Upto 1000 Mbps data transfer rates - location depending.
No extra wires or configuration required
Single push-and-secure button
QuickFind: 662823 | Mfr part code: PLA5206-GB0201F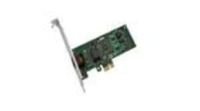 Network Adapter
PCI Express
Wired
1000 Mbps
£26.93 inc. vat
£28.85
save £1.92
£22.44 ex. vat
£24.04
save £1.60
View Product
QuickFind: 148376 | Mfr part code: EXPI9301CTBLK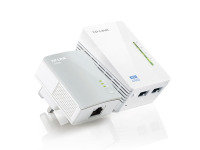 One Touch Super Range Extension
HomePlug AV standard providing up to 600Mbps
Extend 300Mbps wireless connections
QuickFind: 759306 | Mfr part code: TL-WPA4220KIT V1.20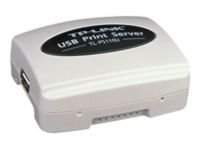 Print server
Hi-Speed USB
RAM 2 MB
QuickFind: 259815 | Mfr part code: TL-PS110U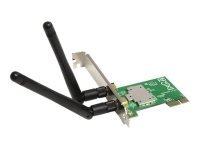 Add high speed Wireless-N connectivity to a desktop through PCI...
Compatible with PCIe equipped computers such as HP Compaq Desktops...
QuickFind: 453928 | Mfr part code: PEX300WN2X2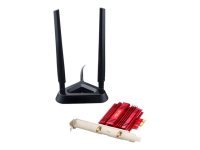 Form Factor: Plug-in card
Interface (Bus) Type: PCI Express
Data Link Protocol: 802.11b, 802.11a, 802.11g, 802.11n, 802.11ac...
Data Transfer Rate: 1.3 Gbps
QuickFind: 670662 | Mfr part code: PCE-AC56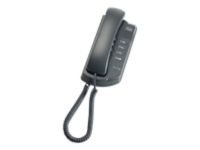 For Communications advice email SOLUTIONS@EBUYER.COM
Please note Cisco Ip Phones are only compatible with Cisco voice...
QuickFind: 239694 | Mfr part code: SPA301-G3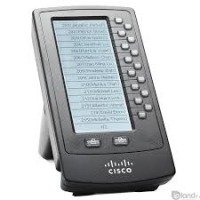 15 programmable buttons
Speed dial
Page Left and Page Right keys
Call transfer
QuickFind: 481911 | Mfr part code: SPA500DS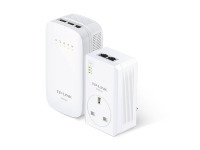 Device Type: Bridge
Enclosure Type: Wall-pluggable
Frequency Band: 2.4 GHz, 5 GHz
Data Transfer Rate: 500 Mbps
£54.99 inc. vat
£61.98
save £6.99
£45.82 ex. vat
£51.65
save £5.83
View Product
QuickFind: 742807 | Mfr part code: TL-WPA4530KIT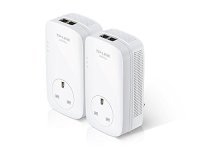 Powerline Adapter
Starter Kit
Wall Pluggable
QuickFind: 748434 | Mfr part code: TL-PA9020P KIT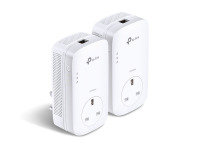 Perfect for Bandwidth Demanding Activities
Gigabit Port for Ultra-fast Datasheet Transfer
Plug and Play, No Configuration Required
QuickFind: 795521 | Mfr part code: TL-PA8010P KIT V2
Return to top
So what do you need?
Setting up a network doesn't need to be difficult - and with the right accessories, you can create a reliable and efficient system that provides all the functionality that you need. The components you will need include:
Media converters transfer data lines from copper cabling to fibre optic, extending the reach and reliability of the system.
Modems enable information to be carried over telephone lines, while network cards allow computers to communicate with the rest of the system.
For an extremely easy way to wire up your network, why not try a powerline adapter? These enable broadband data to be transmitted using the existing wiring in the home so setting the network up is so very easy.
Extras for business
Take your business to the next level with communication devices from Ebuyer.com including Network IP phones and conferencing equipment and accessories.
Order from Ebuyer.com
Check out the full range of network devices we have on offer here at Ebuyer.com. Find what you need, order today and we can deliver tomorrow (terms and conditions apply).