Card Readers
Subcategory
Brand
Price
Card readers from Ebuyer.com
While many computers have built-in memory card readers/writers, it's many won't have slots for every type of card you come across. An all-in-one card reader can solve the problem. These are available as an internal unit which can be installed into a computer. Meanwhile, external card readers that plug into your machine via a USB cable provide a simple solution for those reluctant to open their computer case. Each device delivers different read and write speeds with varying specifications, so check each product listing to find the ideal card reader for you. Order now to take advantage of the great deals we have on offer today.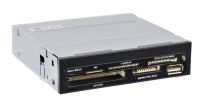 1x USB2.0 port
Compatible with SD, MMC, CF, MD, MS, MS Pro cards
Requires a 3.5 inch external case bay
Includes motherboard connection header
LED indicator
£2.39 inc. vat
£5.99
save £3.60
£1.99 ex. vat
£4.99
save £3.00
View product
QuickFind: 108453 | Mfr part code: CARDREADER-INT-23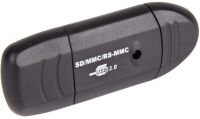 Fast USB2.0 Interface
Small Dimensions & Weight
Support MMC 4.0 / 4.1 / 4.2 (4 Bit & 8 Bit)
RS-MMC, MMC-Mobile
£0.69 inc. vat
£1.13
save £0.44
£0.57 ex. vat
£0.94
save £0.37
View product
QuickFind: 180306 | Mfr part code: SP-CRP1-SDMMC 8121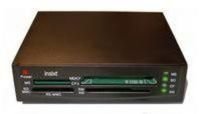 Internal 3.5" housing for desktop PCs
5-slot memory card reader - Plug and Play
Fast memory read/writes
Built-in USB 2.0 port for 'front-side' connectivity
£3.21 inc. vat
£4.08
save £0.87
£2.67 ex. vat
£3.40
save £0.73
View product
QuickFind: 210671 | Mfr part code: USBALLINT1BLACK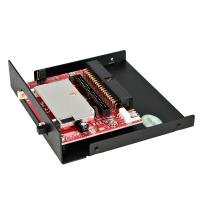 Quick and driver free installation into any IDE 40 pin and 44 pin slot...
Fully compatible with Compact Flash Type I/II and IBM Micro-drive...
QuickFind: 238492 | Mfr part code: 35BAYCF2IDE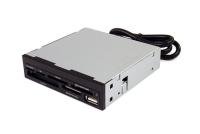 Supports CompactFlash type I/II, SD/miniSD/microSD/SDHC/SDXC,...
Front panel USB port for convenient access
Fits into any external 3.5in drive bay
QuickFind: 522279 | Mfr part code: 35FCREADBK3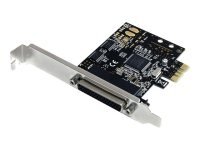 Native single-chip design reduces CPU load for improved performance...
Break-out cable design with low and standard profile brackets offers a...
QuickFind: 364274 | Mfr part code: PEX2S1P553B
QuickFind: 451420 | Mfr part code: SDDRK-121-B35