2.1 Speaker Systems
2.1 speaker systems from Ebuyer.com
Also known as three-piece audio, 2.1 speaker systems provide great stereo sound that is enhanced with a subwoofer. Most 2.1 speaker systems are designed for use with a desktop computer and attach through the USB port. They are ideal if you want to enjoy great sound quality from a video game or streaming media. When shopping for new speakers, be sure to consider the power of the devices, as this will indicate the sound quality and maximum volume level. Order today before 11pm for next day delivery (terms and conditions apply).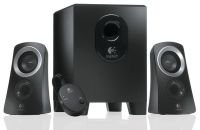 Convenient
control pod
Room-filling sound
Compact subwoofer
Easy setup
QuickFind: 222457 | Mfr part code: 980-000447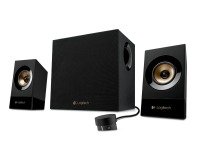 120 Watts of Room-filling sound
Experience booming bass
Versatile setup
All controls at your fingertips
QuickFind: 781915 | Mfr part code: 980-001055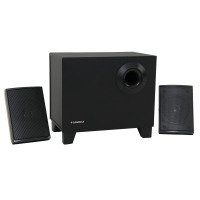 2.1 Channel Active Speaker System
High Quality MDF Wooden Box
Clear Treble and Bass
QuickFind: 787002 | Mfr part code: GMXSPMULTIMEDIASPEAK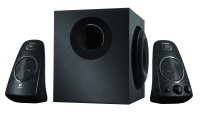 THX Certified sound
RCA / 3.5 mm inputs, and headphone jack
Adjustable volume and bass
Total 200W RMS power
QuickFind: 236461 | Mfr part code: 980-000404
Delivers a loud, deep and clear sound with 80W peak power and 40W RMS...
One 24W subwoofer and two satellite speakers at 8W each
QuickFind: 750644 | Mfr part code: 980-001201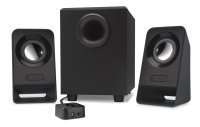 Adjustable Bass
Compact Efficient Design
Satellites: (14.2 cm x 7.9 cm x 7.6 cm)
Subwoofer: (18.3 cm x 13 cm x 19.3 cm)
QuickFind: 705933 | Mfr part code: 980-000943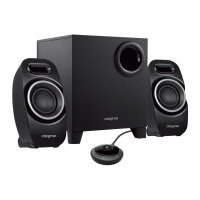 Wireless audio at your convenience
Enjoy natural sounding audio
Compact system that delivers big sound
Just the right "oomph"
QuickFind: 781319 | Mfr part code: 51MF0450AA001