Be Quiet CPU Coolers
(8)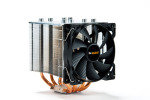 Square, single tower design
Compatibility with all current Intel and AMD sockets
Freely-selectable fan mount point is recommended for AMD
£ 35.57 inc. vat
£37.98
save £2.41
£ 29.64 ex. vat
£31.65
save £2.01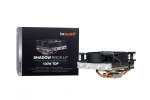 Compatible with a wide range of Intel and AMD Sockets
Low-profile heat sink design
Four 6mm high-performance heat pipes
£ 30.48 inc. vat
£34.61
save £4.13
£ 25.40 ex. vat
£28.84
save £3.44
Free Delivery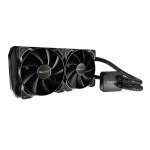 All-in-One water cooling
Innovative decoupled reverse-flow pump
Two Pure Wings 2 140mm PWM fans
Compatible with Intel and AMD
Full copper radiator
Free Delivery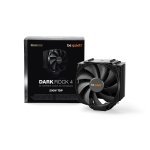 Free Delivery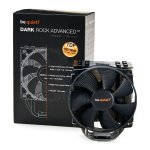 Multi Socket Support
AMD and Intel ready
Backplate mounting
Free Delivery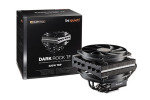 Compatible with a wide range of Intel and AMD Sockets
Extremely high 220W TDP cooling performance
Two powerful nickel-plated aluminum heat sinks
Two SilentWings 135mm PWM fans
Free Delivery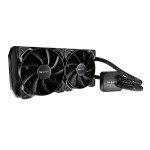 All-in-One water cooling
Innovative decoupled reverse-flow pump
Two Pure Wings 2 140mm PWM fans
Compatible with Intel and AMD
Full copper radiator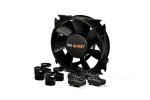 Unique airflow-optimized fan blade
design reduces noise-generating fan turbulence
Pulse Width Modulation (PWM) allows compatible 4-pin controllers...
Fan speed @ 12V (rpm)1800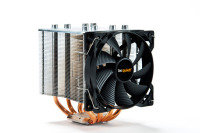 Square, single tower design
Compatibility with all current Intel and AMD sockets
Freely-selectable fan mount point is recommended for AMD
£ 35.57 inc. vat
£37.98
save £2.41
£ 29.64 ex. vat
£31.65
save £2.01
View Product
QuickFind: 523010 | Mfr part code: BK013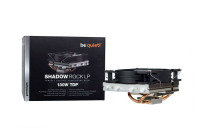 Compatible with a wide range of Intel and AMD Sockets
Low-profile heat sink design
Four 6mm high-performance heat pipes
£ 30.48 inc. vat
£34.61
save £4.13
£ 25.40 ex. vat
£28.84
save £3.44
View Product
QuickFind: 728224 | Mfr part code: BK002-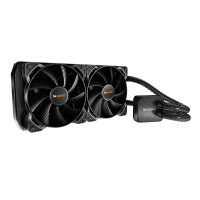 All-in-One water cooling
Innovative decoupled reverse-flow pump
Two Pure Wings 2 140mm PWM fans
Compatible with Intel and AMD
Full copper radiator
Free Delivery
QuickFind: 767831 | Mfr part code: BW003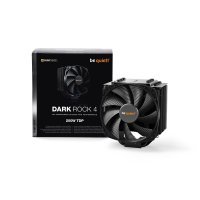 Free Delivery
QuickFind: 860388 | Mfr part code: BK021/1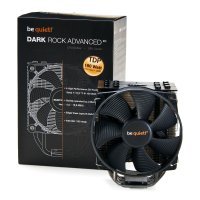 Multi Socket Support
AMD and Intel ready
Backplate mounting
Free Delivery
QuickFind: 387584 | Mfr part code: BK014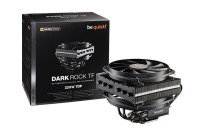 Compatible with a wide range of Intel and AMD Sockets
Extremely high 220W TDP cooling performance
Two powerful nickel-plated aluminum heat sinks
Two SilentWings 135mm PWM fans
Free Delivery
QuickFind: 728261 | Mfr part code: BK020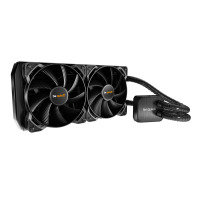 All-in-One water cooling
Innovative decoupled reverse-flow pump
Two Pure Wings 2 140mm PWM fans
Compatible with Intel and AMD
Full copper radiator
Free Delivery
QuickFind: 767830 | Mfr part code: BW002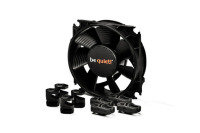 Unique airflow-optimized fan blade
design reduces noise-generating fan turbulence
Pulse Width Modulation (PWM) allows compatible 4-pin controllers...
Fan speed @ 12V (rpm)1800
QuickFind: 520275 | Mfr part code: BL029
Return to top
Be Quiet CPU Coolers from Ebuyer.com
Most of us make very heavy demands on our computers processors. Whether we are a multimedia enthusiast, a gamer or designer we need fast processors and expect our machines to perform to the max at all times.
But without proper cooling and heat dissipation the CPU won't perform to its optimum level. But the extraordinary performance that this range of Be Quiet coolers delivers will keep your processor cool and rocking along all day.
High quality build
Be Quiet coolers are premium components designed to deliver outstanding results. Made from the best materials and engineered to the highest levels they make an ideal addition to your computer.
They are ideal for PC builders but as they are so easy to install all users will be able to deploy one of these coolers and maximise the efficiency of their computer.
With ground breaking design and advanced technology these high performance coolers operate virtually silently. Add in their incredible reliability it isn't surprising that Be Quiet are the coolers of choice for many power users.
More choice at Ebuyer.com
Be Quiet are ideal for all users but here at Ebuyer you will find a huge choice of solutions from other manufacturers in our PC cooling and modding range. Check out the great deals we have every day and order now for fast UK delivery.