Mid Tower ATX Computer Cases
Mid Tower ATX Computer Cases from Ebuyer.com
Mid tower ATX cases are, as the names suggests, a halfway house between a full tower and a mini tower. Mid tower's are probably the most popular case as they don't take up much space but can also house a lot of hardware.
Read more...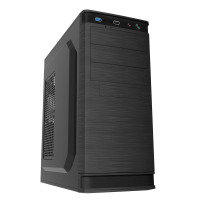 QuickFind: 756606 | Mfr part code: CSCITF4BLACK
Motherboards Micro-ATX / ATX
Power Supply ATX PS2 (optional)
Expansion Slots 7
Card reader installed
QuickFind: 725458 | Mfr part code: CAS-748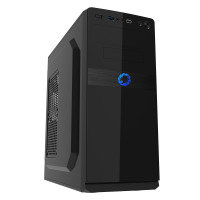 Sleek, stylish and simple design
Pre-installed with a 80mm fan, but is capable of adding an additional 2 x...
A small concave area to allow for storage of small items
QuickFind: 759728 | Mfr part code: GMXCSPROTEUS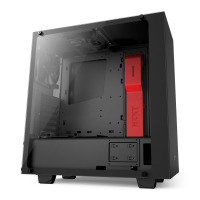 Giant Window
Ultra Clean Interior
Liquid Cooler Support
Detailed Engineering
VR Cable Management Puck
QuickFind: 774808 | Mfr part code: CA-S340W-B4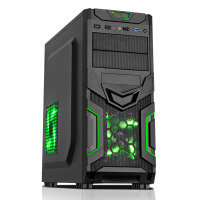 I/O 1 x USB 3 2 x USB 2, 1 x HD Audio, 1 x Mic
7x Full Size Expansion Slots
Green LED 12cm Fan Included
Tool-less design
Motherboard Supports ATX, Micro ATX, Mini ITX
QuickFind: 713419 | Mfr part code: GOBLIN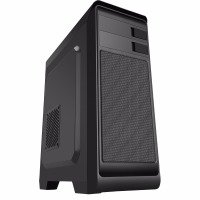 Front panel - Metal mesh
USB 2.0 x 2, USB 3.0 x 1 and HD Audio
Vented side panel
QuickFind: 758797 | Mfr part code: CSCITHEROBLACK
Patented air intake channel on the perimeter of the front panel...
Fully metal mesh design for the most cooling
Enough room for long VGA card installation
QuickFind: 730083 | Mfr part code: TESSERACT SW RED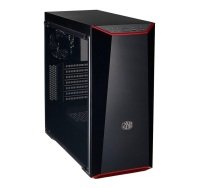 Side Window
ATX, Micro-ATX, Mini-ITX
USB 3.0 x 2
Audio in / out
£ 39.48 inc. vat
£43.49
save £4.01
£32.90 ex. vat
£36.24
save £3.34
View Product
QuickFind: 789984 | Mfr part code: MCW-L5S3-KANN-01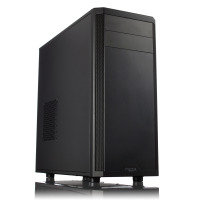 Superior water cooling support for its size, supporting one 240/280mm...
Supports graphic card up to 380mm without any HDD removal
7 expansion slots
QuickFind: 646950 | Mfr part code: FD-CA-CORE-2500-BL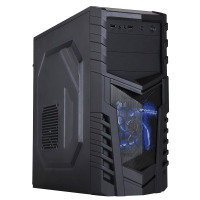 Form Factor: Midi Tower
Motherboard Support: ATX, Micro ATX
PSU Support: Standard ATX
Dimensions: 178mm x 420mm x 377mm (W x H x D)
£ 27.98 inc. vat
£31.14
save £3.16
£23.31 ex. vat
£25.95
save £2.64
View Product
QuickFind: 716546 | Mfr part code: DEFENDER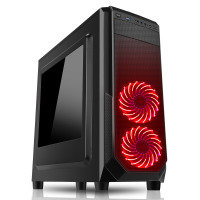 Metal mesh and semi transparent front panel with a plastic front door...
Two 120mm RGB front fans
Ability to install up to 3 x 120mm fans
QuickFind: 785634 | Mfr part code: PRISM BLACK RGB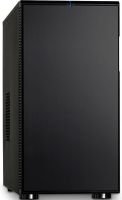 ATX, microATX, mini ITX
2 x USB 3.0 & 2 x USB 2.0
2 x 5.25"& 8 x 3.5/2.5"
Upto 7 Fans (1 x 140mm & 6 x 120/140mm)
QuickFind: 391898 | Mfr part code: FD-CA-DEF-R4-BL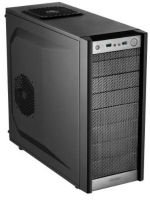 10 drive bays: 3x 5.25 inch, 5x 3.5 inch, 2x 2.5 inch
Maximum graphics card length: 266mm
Maximum CPU cooler height: 155mm
2x 120mm fans included, up to 5x can be installed
QuickFind: 341400 | Mfr part code: 0-761345-15970-8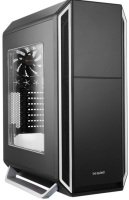 Form Factor ATX
Motherboard compatibilityATX, Micro-ATX, Mini-ITX
Case size (L x W x H in mm) 495 x 230 x 542
Color Silver
QuickFind: 728210 | Mfr part code: BGW03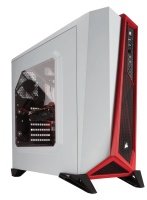 Form Factor Mid-Tower
Motherboard Support MicroATX, ATX, Mini-ITX
Expansion Slots 7
Two years Warranty
QuickFind: 750989 | Mfr part code: CC-9011083-WW
Return to top
Choosing your tower
We have a huge range of mid towers to choose from including models from all the leading manufacturers including CoolerMaster, Corsair and Antec. Price wise the cases vary enormously depending on whether you want a model for a basic home computer or a super-tower that can be built into un ultimate gaming machine.
When selecting your computer case remember that the number of internal and external bays are different on each case. Make sure that the case has enough bays and slots for your set up.
Most mid tower ATX computer cases will have cooling fans built in but check if there is room for more if required.
The design of the cases vary as much as their configuration. The days of square black boxes are long gone. Nowadays computer cases have a variety of cool designs that look stunning.
Order from Ebuyer
Take advantage of our low prices and fast shipping service and order your mid tower ATX case today.