Gaming Keyboards
Gaming Keyboards
Choosing a gaming keyboard is a very personal choice and, if you are a gamer, getting the right keyboard is absolutely essential. And, if you are serious about gaming, you need a keyboard that is not only versatile, practical and is loaded with features but must also look great whilst being extremely tactile.
Read more...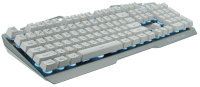 19 anti-ghost keys, for accurate gaming
7 colour back lit keys, brightness & colour adjustable
Solid aircraft grade Aluminium
Multi-function FN key combinations
QuickFind: 714487 | Mfr part code: EBIY9500P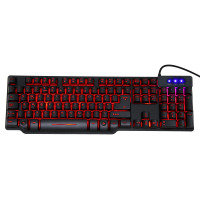 High quality film switch
Ergonomic outer design
7 colours high-backlight luxury gaming keyboard
Quickly control each function on the keyboard
Win-Lock Key to disable Windows Key
£ 14.79 inc. vat
£19.98
save £5.19
£12.32 ex. vat
£16.65
save £4.33
View Product
QuickFind: 774981 | Mfr part code: KBPOWMECH1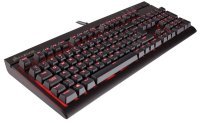 USB Pass-Through Port
Fully programmable
Gaming Grade Circuitry 100% Anti-Ghosting
Dimensions LxWxH 448x170x40 mm
£ 69.99 inc. vat
£91.98
save £21.99
£58.32 ex. vat
£76.65
save £18.33
View Product
QuickFind: 716469 | Mfr part code: CH-9000088-UK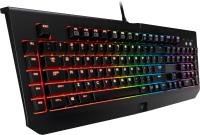 Razer Mechanical Switch
16.8 Million Colour Options
Razer Synapse Enabled
Great Durability
10 Key Rollover
£ 109.96 inc. vat
£154.98
save £45.02
£91.63 ex. vat
£129.15
save £37.52
View Product
QuickFind: 671513 | Mfr part code: RZ03-01220300-R3W1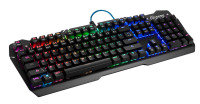 N-Key Roll over (NKRO) for accurate gaming
Brown Mechanical Switches
Multi-mode RGB backlight adjustment and customised effects
Record 7 groups of customised backlighting
£ 57.98 inc. vat
£62.98
save £5.00
£48.31 ex. vat
£52.48
save £4.17
View Product
QuickFind: 737184 | Mfr part code: EIKBX06BY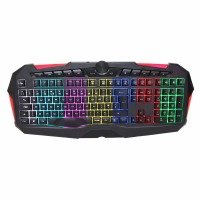 7 back-lit LED colours
5 Macro Keys
Ultra durability 30million key press lifespan
Adjustable Feet Stands
Windows Lock Functionality
£ 14.27 inc. vat
£19.98
save £5.71
£11.89 ex. vat
£16.65
save £4.76
View Product
QuickFind: 760875 | Mfr part code: KBPOWRG100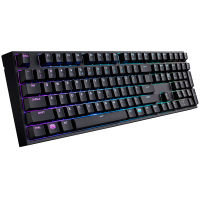 Processing Power Unleashed
Brown Cherry MX RGB Switch
16.8m Colour RGB Backlight
On-the-fly system Macro
ARM Cortex M3 32bit CPU with 72MHz
QuickFind: 752702 | Mfr part code: SGK-6020-KKCM1-UK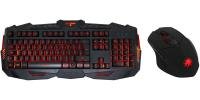 Cool backlit keyboard and mouse
Keyboard with Multiple LED Colours
Ergonomic design
Spill-resistant design
QuickFind: 760863 | Mfr part code: GMKM-GAMER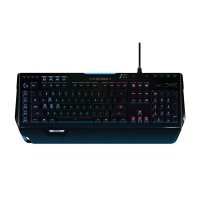 Ultra-fast RGB mechanical gaming keyboard
Exclusive Romer-G mechanical switches
Up to 25% faster actuation
Intelligent RGB illumination for customisable lighting
QuickFind: 756428 | Mfr part code: 920-008017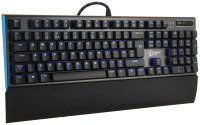 Kailh Red Mechanical Switches
Blue illumination with different effects
Braided USB cable and detachable palm rest
8 extra Blue gaming keys
£ 39.99 inc. vat
£59.98
save £19.99
£33.32 ex. vat
£49.98
save £16.66
View Product
QuickFind: 697251 | Mfr part code: ELEMENTSK52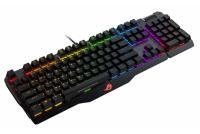 Cherry MX RED Switches
RGB Aura Lighting
Numpad Included
Mayan Aluminium-Alloy Frame
N-key Rollover
£ 194.99 inc. vat
£205.12
save £10.13
£162.49 ex. vat
£170.93
save £8.44
View Product
QuickFind: 770924 | Mfr part code: 90MP00E0-B0EA00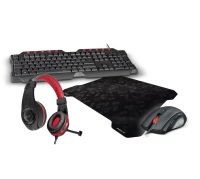 Ferus Keyboard
Assero Mouse
Legatos Headset
Cript Mouse Mat
SL-860000-B1
QuickFind: 794971 | Mfr part code: SL-860000-B1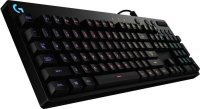 Pure performance-driven design
Ultra-responsive Romer-G mechanical key switches
Customisable RGB lighting
Easy-access media control
QuickFind: 756430 | Mfr part code: 920-007744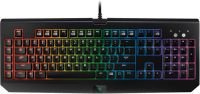 All New Razer Mechanical Switch - Designed for gaming
Compact layout - With detachable USB cable
Chroma Customizable Backlighting - With 16.8 million color options...
QuickFind: 721998 | Mfr part code: RZ03-01430300-R3W1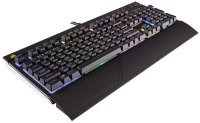 Multi-color dynamic backlighting
USB pass-through port
Detachable soft-touch wrist rest
Easy-access multimedia controls
QuickFind: 722928 | Mfr part code: CH-9000094-UK
Return to top
Choosing your Keyboard
We have loads of terrific gaming keyboards here at Ebuyer.com from all the best manufacturers including the outstanding range from Element Gaming as well as Corsair, CoolerMaster and, of course, Mad Catz and SteelSeries.
Each keyboard is different with its own unique design and range of features. And many keyboards use mechanical switches, which mean you can expect better audio and tactile feedback.
You will also find that gaming keyboards offer a variety of backlighting styles. A backlit keyboard looks cool and is pretty useful when gaming in the dark. But backlighting can also involve adjustable colour so you can highlight the keys you use most often.
Many keyboards also feature a swappable keycap. This lets you remove keys and replace with ones that you will either use more frequently, or find more comfortable.
Additional features to look out for include dual layer macro keys, macro command customization, dedicated macro keys, statistic tracking and text and audio communication. Some gaming keyboards also allow the user to sync custom settings and macros to the cloud.
Order from Ebuyer
Why not look through the full range of gaming keyboards that we have available here at Ebuyer.com? You will find some amazing keyboards and some equally amazing prices. Every day we have special deals on keyboards and gaming mice so take advantage of our low prices and order today for fast delivery direct to your door.