Ebuyer Recommends
StarTech USB Adapters
(1)
Add High Speed Wireless N Connectivity to a Desktop or Laptop Computer...
Compatible with Dell Inspiron 530 series
USB WiFi Network Card / USB Wireless NIC / Wireless over USB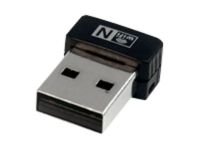 Add High Speed Wireless N Connectivity to a Desktop or Laptop Computer...
Compatible with Dell Inspiron 530 series
USB WiFi Network Card / USB Wireless NIC / Wireless over USB
QuickFind: 287034 | Mfr part code: USB150WN1X1
Return to top
StarTech USB Adapters from Ebuyer.com
These easy to use devices turn your desktop PC or laptop into a fast wireless machine with a wide ranging connectivity that log onto your own or any public network. Compact and portable they can be taken anywhere you take your laptop providing you with the means of getting online wherever you are.
Excellent performance
These devices simply plug into the USB port of your computer and are able to receive wireless signals from your router. And with some models providing 802.11ac compatibility they deliver superior speeds with dual-band models supporting speeds of over 400Mbps. They are also backwards compatible with 802.11b/g/n networks to increase their versatility.
This ensures excellence broadband performance whether you are streaming a movie, downloading an album or playing games online. Easy to install you can choose to use a USB adapter with your desktop PC and banish those untidy Ethernet cables to the bin.
Equally if your laptops wireless connectivity is below par using an adapter is an easy and very affordable way to enhance the machines performance.
Great wireless networking deals at Ebuyer.com
If you are expanding your network you find everything you need here at Ebuyer including many different USB adapters from all the leading brands including the devices from StarTech that are featured below. Order now to take advantage of our low prices and fast UK delivery.