HP 304 ink cartridges
Used in homes and offices across the country, HP 304 ink really is the practical choice.
Whether you're printing in black or coloured ink, you're certain to enjoy quality results every time.
Buy HP 304 Ink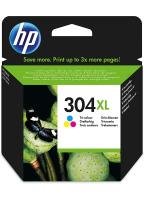 HP 304XL Tri-Colour Original Ink Cartridge (Cyan, Magenta, Yellow) High Yield - N9K07AE
£30.48 inc. VAT
N/A N/A
Previous
Next
HP Instant Ink - never run out of ink again
We all know the frustration of our printer running dry when we have documents to print, or we remember far too late that we've forgotten (again) to order a new cartridge. But you don't have to worry about running out of ink again thanks to HP Instant Ink. It's a subscription service which delivers new cartridges to your door before your printer runs out of ink. And from just 99p per month it's great value for money.
Never Run Out
Convenient ink replacements and smart delivery included.
Save up to 70% on ink cartridges
Save when you pay monthly with Instant Ink, starting from only £0.99 per month.
Worry-free Service
Peace of mind with plan flexibility to change, pause, or cancel anytime at no cost.
Responsible Recycling
Help us put plastic back into printers with prepaid recycling service included.
Get £10 credit
Join Instant Ink today to get your £10 promotional credit.
Is my printer compatible with HP 304 ink?
Hopefully you're on the right page and you know you need 304 ink cartridges for your printer. But, just in case you're a little unsure, you can use our ink and toner tool to check which ink your printer needs.
The difference between HP 304 and HP 304XL
It's important to highlight that there are two sizes of HP 304 ink on offer: standard and extra-large. You might see HP ink 304 XL and assume that it has bigger dimensions than the standard HP 304. However, the size difference is in the ink capacity and the amount of pages each cartridge allows you to print (also known as the page yield).
For the best results use genuine HP 304 ink
For fast dry times, high-quality fade-resistant printing, and exceptional page yields you should always choose original HP 304 ink cartridges. They are specially designed and formulated for HP printers and can be easily recycled.
Customers who buy HP 304 also looked at...