Joysticks & Gaming Eyewear
For successful PC gaming, the right accessories are paramount. Choosing your weaponry could make all the difference between winning and losing in the heat of the battle. Your games den should be set up to give you the edge. As well as gaming keyboards, gaming mice and gaming surfaces, at Ebuyer.com you'll also find an array of alternative gaming accessories that not only provide you with comfort, personalisation and precision, but also that competitive difference. From gamepads, gaming eyewear and gaming t-shirts, to joysticks and racing wheels, you'll find exactly what you need to up your game.
Read more...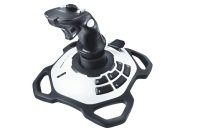 Rapid-fire trigger
12 programmable buttons
Precision twist rudder control
8-way hat switch
Stable, weighted base
QuickFind: 579609 | Mfr part code: 942-000031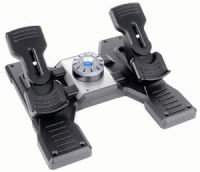 QuickFind: 767070 | Mfr part code: 945-000005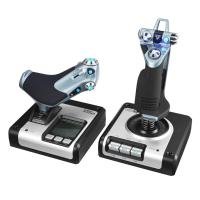 Non-contact technology
Multifunction LCD display
3D twist with rudder lock
5-position grip system
282 programmable commands over 3 modes
QuickFind: 767073 | Mfr part code: 945-000006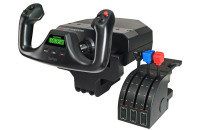 Realistic yoke controls
Stainless steel yoke shaft
Three-axis lever throttle quadrant
POV hat, 14 button controls, and three-position mode switch
QuickFind: 766122 | Mfr part code: 945-000004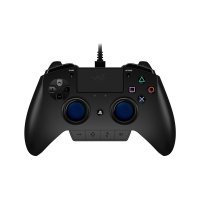 Razer Raiju Officially Licensed Sony PS4/Playstation 4 Controller...
4x Programmable buttons for personalised layouts
QuickFind: 809005 | Mfr part code: RZ06-01970100-R3G1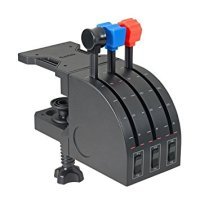 3 axis levers
6 buttons
Ideal for Side-by-Side Configuration
Fully Customizable to Meet Your Needs
QuickFind: 766123 | Mfr part code: 945-000015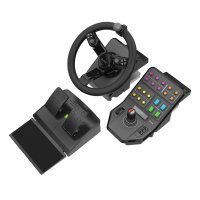 900-degree rotation steering wheel
Integrated dual analogue sticks
Side panel loader control stick
Set-and-forget cruise control speed dial and 37 programmable buttons...
QuickFind: 775210 | Mfr part code: 945-000007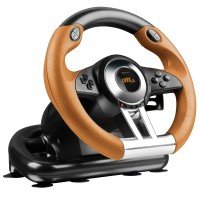 For PS3
Highly Realistic Gaming Experience
Superior Control When Racing
Perfect Steering Precision
Powerful Force-vibration Effects
QuickFind: 502997 | Mfr part code: SL-4495-BKOR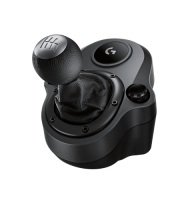 Driving Force shifter
Works with Logitech G29/G920 Racing Wheel
For a more realistic experience
PS4, Xbox One, Windows 8.1,8,or 7
QuickFind: 719207 | Mfr part code: 941-000130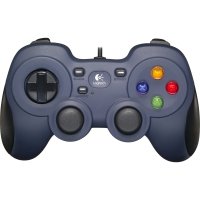 Broad game support
Profiler software
Familiar layout
Floating D-pad
Features 1.8 m (6-foot) cord
£ 23.99 inc. vat
£27.98
save £3.99
£19.99 ex. vat
£23.31
save £3.32
View Product
QuickFind: 723761 | Mfr part code: 940-000138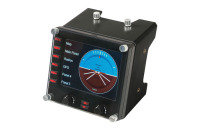 15 Different Readouts in 1 Compact Box
Easy Transitions
Fully Customizable To Meet Your Needs
£ 125.20 inc. vat
£130.98
save £5.78
£104.33 ex. vat
£109.15
save £4.82
View Product
QuickFind: 766121 | Mfr part code: 945-000008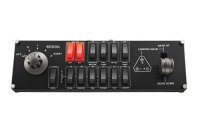 Upgrade your flight simulation experience for Microsoft FSX with the...
an ideal way to expand the number of controls for your flight simulation...
£ 68.06 inc. vat
£68.96
save £0.90
£56.71 ex. vat
£57.46
save £0.75
View Product
QuickFind: 766124 | Mfr part code: 945-000012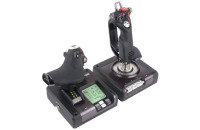 Precise Combat Flight Sim Action
Dual-Spring Centering Mechanism
Advanced Grip Adjustment System
3D Twist with Rudder Lock
Multifunction LCD Display
QuickFind: 767071 | Mfr part code: 945-000003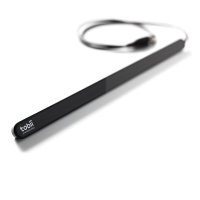 PC Gaming Eye Tracker
Head tracking Support
40+ Compatible Games
The world's first eye tracking ASIC,
2 Years Warranty
QuickFind: 788057 | Mfr part code: 12004648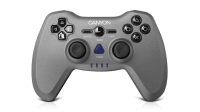 3 in 1 wireless controller
Dual-shock vibration
"Turbo Fire" shooting accelerating button
Up to 8 hours of playtime
Transmission distance 10m
QuickFind: 799171 | Mfr part code: CNS-GPW6
Return to top
Gamepads
Occasionally, you'll find yourself playing a game that needs more than just a keyboard and mouse. In this instance, a gamepad is what you want, with features such as joysticks and arcade-style buttons you'll be ahead of the game.
The Logitech F710 frees you of annoying wires and lets you totally immerse yourself in the game thanks to the dual motor vibration feedback - so you will feel every little hit or bump.
Gaming Eyewear
Ever spent the whole day gaming and found yourself with a bad headache caused by eyestrain? If so, then specialised gaming eyewear could be the solution to your problem. We sell a range by Gunnar, the advanced computer eyewear specialist. The range ensures your eyes are protected, and lets you stay focussed on the game for longer.
The glasses are all extremely light in weight, with features such as silicone nose pads, rubber tipped temples and one piece front construction (i.e. no screws to rub your face) - increasing the comfort factor.
Gunnar glasses feature i-AMP technology. This includes using specific lens material to eliminate distortion, and lens tints to improve overall contrast and comfort by filtering out harsh artificial light, UV rays and high-intensity visible light. Lens geometry improves the detail, while the wrapped design limit air currents affecting your eyes. In addition, the glasses feature lens coatings that have an anti-reflective layer to reduce glare, and an exterior hard coat that minimises environmental damage and scratching.
Gaming T-shirts
Now you can look good as well as simply play well thanks to the Ebuyer.com collection of gaming t-shirts. Choose your style and size and enjoy the comfort of 100% cotton, with a stylish design while to compete. And don't worry about getting hot and bothered in the heat of the battle - these t-shirts are pre-shrunk, ensuring no matter how many times you wash them, they will still fit!
Joysticks
We have a selection of futuristic-looking joysticks to make sure you get the most from your gaming experience. For a realistic flying experience, for example, the Saitek Pro Flight Yoke system has been designed to deliver true flight simulation. It features ergonomic controls, integrated chronograph and separate throttle.
The Hybrid bikeshttp://www.ebuyer.com/452138-speedlink-wasp2-usb-joystick-sl-6612-ssvSpeedlink Wasp2 joystick looks more like a traditional joystick and provides total flexibility. It has an all-round cockpit view and eight freely-assignable digital fire buttons, as well as good grip for all your complex aerobatics.
Racing Wheels
If you're more into racing than flying, then a racing wheel can really boost your drive. The Logitech G27 racing wheel is jam-packed with features to deliver a complete racing experience. Its leather, 28-inch steering wheel provides comfort even for the longest races and turns 900 degrees, while the steel pedals allow for precise control. You also get a dual-motor force feedback to make you feel traction losses and weight shift, and a six-speed gearbox lets you find the right gear at speed.
For a racing wheel you can take with you, the Thrustmaster Ferrari Wireless GT F430 Cockpit is foldable and wireless and features a removable wheel and carry handle - great for storage and games with your friends.
Go back to basics with our top quality gaming keyboards and gaming mice.