Corsair CPU Coolers
(10)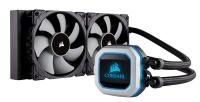 Dynamic Multicolor RGB Lighting
Powered by Magnetic Levitation
Total Speed Control
Precise Pump and Fan Control
Easy to Install
Free Delivery
£ 99.98 inc. vat
£112.85
save £12.87
£ 83.31 ex. vat
£94.04
save £10.73
View Product
QuickFind: 856083 | Mfr part code: CW-9060033-WW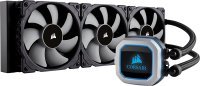 Dynamic Multicolor RGB Lighting: Vibrant RGB LED pump head produces...
Powered by Magnetic Levitation: Three low-noise 120mm ML Series...
Powerful Software: COR
Free Delivery
£ 144.98 inc. vat
£155.80
save £10.82
£ 120.81 ex. vat
£129.83
save £9.02
View Product
QuickFind: 826342 | Mfr part code: CW-9060031-WW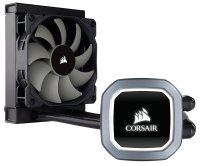 Cooler, Quieter & More Controlled#
Precise PVM Control
120mm High Density Radiator
LED Illuminated Pump Head
Efficient Cold Plate and Pump
Free Delivery
£ 69.94 inc. vat
£74.00
save £4.06
£ 58.28 ex. vat
£61.66
save £3.38
View Product
QuickFind: 835158 | Mfr part code: CW-9060036-WW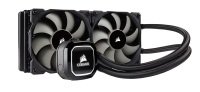 240mm High-Density Radiator
Powerful PVM Cooling
LED Illuminated Pump Head
Efficient Cold Plate and Pump
5 Year Warranty
Free Delivery
£ 74.99 inc. vat
£91.88
save £16.89
£ 62.49 ex. vat
£76.56
save £14.07
View Product
QuickFind: 840022 | Mfr part code: CW-9060040-WW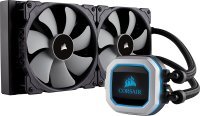 Dynamic Multicolor RGB Lighting: Vibrant RGB LED pump head produces...
Powered by Magnetic Levitation: Two low-noise 140mm ML Series...
Powerful Software: CORSA
Free Delivery
£ 119.98 inc. vat
£128.42
save £8.44
£ 99.98 ex. vat
£107.01
save £7.03
View Product
QuickFind: 826343 | Mfr part code: CW-9060032-WW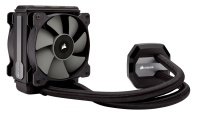 Extra-thick radiator
Customized cooling performance
Socket Support AMD: AM2, AM3, FM1, FM2, Intel LGA: 1150, 1151, 1155,...
Fan Specification 120mm (x2)
Free Delivery
£ 82.26 inc. vat
£102.22
save £19.96
£ 68.55 ex. vat
£85.18
save £16.63
View Product
QuickFind: 744369 | Mfr part code: CW-9060024-WW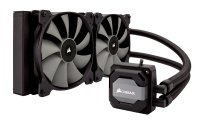 280mm radiator With Advanced SP140L PWM fans
AMD: AM4, AM2, AM3, FM1, FM2
Intel LGA: 1150, 1151, 1155, 1156, 1366, 2011, 2011-3
Warranty Five years
Free Delivery
£ 108.48 inc. vat
£114.71
save £6.23
£ 90.40 ex. vat
£95.59
save £5.19
View Product
QuickFind: 744379 | Mfr part code: CW-9060026-WW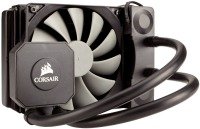 Corsair Hydro Series
AMD and Intel Compatibility
Easy Mounting
120mm Radiator
Advanced SP120L PWM fan
£ 45.00 inc. vat
£51.06
save £6.06
£ 37.50 ex. vat
£42.55
save £5.05
View Product
QuickFind: 751869 | Mfr part code: CW-9060028-WW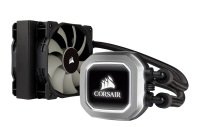 Precise PWM Control
120mm High Density Radiator
LED Illuminated Pump Head
Effecient Cold Plate and Pump
Easy to Install
Free Delivery
QuickFind: 856087 | Mfr part code: CW-9060035-WW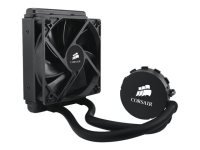 Low-noise, low-speed
120mm fan
Pre-filled
Free Delivery
QuickFind: 410726 | Mfr part code: CW-9060010-WW
Return to top
Corsair CPU Coolers from Ebuyer.com
For top of the range cooling solutions you don't need to look further than Corsair. There is no point in building or owning a high performance PC if you don't have a high quality cooling system as the CPU will simply overheat.
But install a Corsair cooler and it will keep your machine running to its maximum level all day long whilst keeping the CPU cool for optimal performance.
With a range of liquid coolers suitable for all high performance machines and both Intel and AMD processors these devices are ultra-reliable and an affordable way to upgrade your machine.
If you are a gamer or overclocker these coolers are ideal. They can deal with blisteringly fast processors protecting your hardware and ensuring your PC runs quickly, smoothly and efficiently and almost silently.
But not only do these coolers deliver an extreme performance they are also designed to impress. Their stylish and custom designs will fit in perfectly with any custom built PC.
Everything you need at Ebuyer.com
Whether it is a new CPU cooler you need or any other component from our extensive PC cooling and modding range you will discover low prices and great deals every day here at Ebuyer. And, if you order before 11pm we can deliver your items to you tomorrow (terms and conditions apply).