Ebuyer Recommends
V7 Micro SD Cards
(1)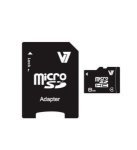 Micro SDHC Memory Card
8GB
Class 4
10 Megapixels gives about 802 Photos
5 Years Warranty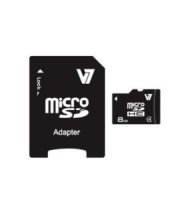 Micro SDHC Memory Card
8GB
Class 4
10 Megapixels gives about 802 Photos
5 Years Warranty
QuickFind: 450555 | Mfr part code: VAMSDH8GCL4R-2E
Return to top
V7 Micro SD Cards from Ebuyer.com
A storage device has to offer more than a few key features if it's going to be competitive and attract the attention of the modern tech-savvy audience. It needs to be small and light; it needs to transfer data quickly and seamlessly; and it needs to perform well again and again. Thankfully, these features come as standard in every V7 micro SD card.
V-Small, V-High Capacity, V7
A micro SD card from V7 does one main thing: data storage. The applications of this function are, however, manifold. A micro SD card can replace the standard card that comes with a smartphone to give you considerably more storage space for all your music, movies and high-resolution photos. Micro SD cards are also pretty much the universal storage medium in modern digital cameras and video recorders.
At Ebuyer, we stock a wide range of V7 micro SD cards suitable for both business and personal use. Find your micro SD cards using the filters on the left of the screen. Don't forget that with Ebuyer you always get fast delivery and low prices.